Accessioning
From JUNO Wiki
Accessioning
Accessioning is the term used to describe the process of adding new materials to the library collection. Accessioning Requires: Specification of procedures for taking all the books and documents acquired to be added to the stock of the library.
Roles
Library Admin
Path
Library Admin » Library Purchase » Accessioning
Terminology Used
Accession number : An accession number is a unique identifier assigned to the library media.
Input Needed
Library
Library Media
Policy Name
Purchase Order
Prefix
Publication
Author
Copies
ISBN Number
Volume
Edition
Course
Vendor
Bill Number
Rate Per Unit
Discount %,
Discount (Rs)
Purchase Cost
Currency
Subject
Language
Status
Keywords
Abstract
Number of Pages
Functionality
User can add new purchase book in order of PO.
User can map purchased book with barcode prefix.
User can save new purchase book with following details Currency,Subject,Language,Status,Keywords,Abstract,No. of Pages etc.
User can generate library books excel sheet.
User can expand window.
Screen Shots / Steps
Accessioning
Add Library Books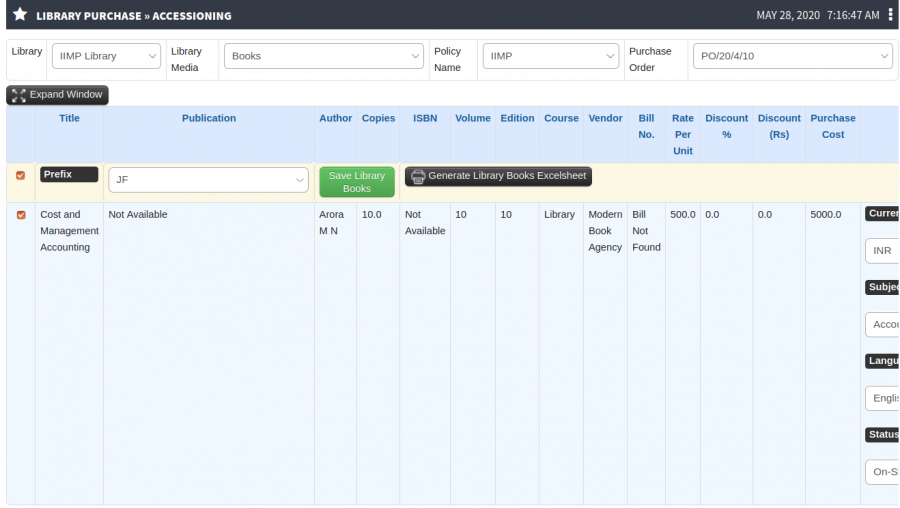 Expand Window