Vendor Feedback
From JUNO Wiki
A vendor feedback helps purchase admin to understand the risks that exist when using a vendor's product or service.
Prerequisite
User must have purchase / Stock admin role
Roles
Purchase and Stock Admin
Path
Purchase Admin - Vendor » Vendor Feedback
Stock Admin - Market » Vendor Feedback
Functionality 
Purchase and Stock admin have the authority to submit feedback for registered vendors.
Admin's can give feedback based on different aspects such as Vendor performance, Contract Quality and Suggested changes in the contract.
Once feedback has been submitted, Feedback rating will be considered while giving order to that vendor.
Only for registered vendor admin can submit feedback.
Screen Shots / Steps
Vendor Feedback
Admin's can checked the already given feedback against the vendor. To check the feedback details select the vendor name from the drop down and click on arrow.
To submit new feedback, Select the registered vendor from the drop down and click on Give feedback button.

Vendor Performance
Once admin clicked on Give Feedback button feedback form will be visible.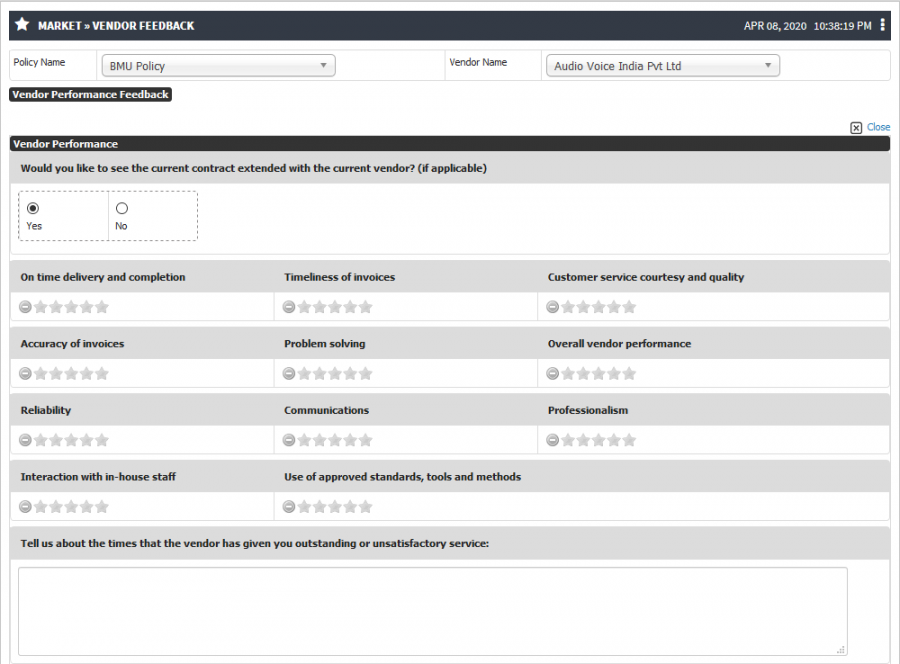 Contract Quality
Suggested Changes to Contract