Approval Of Topic by Thesis Department
From JUNO Wiki
Topic Registration Approval by Thesis Dept.
The student admitted to a Ph.D. programme shall submit a research proposal in the prescribed format,through his guide and the respective Thesis Dept..The research proposal should consist of the topic of research and a broad outline of the work to be carried out.
Once Topic Registration is approved by HOD it will sent to the Thesis Dept. of the university/Faculty to evaluate and Approve/Send back the candidate submission.
Roles
Faculty
Path
User can redirect to the Topic approval by Thesis Dept. using Job tray ' Student Topic Approval'.
Pre-requisites
Thesis Dept. must be allocated in component configuration
Candidates Topic Registration request must be approved by Guide
Terminologies Used
Guide : Guide shall mean a member of the academic staff of the University/Constituent Unit, who guide/supervise the research work of the candidate.
HOD : Head of the Department
Dean : The head of a university faculty or department.
Convocation Year : Convocation means a large, formal meeting, esp. for the ceremony at a university at the end of a course of study.We can define period to identify candidate who have registered or accomplished their Synopsis & Topic Registration in defined Convocation Year.
Functionality
1) Topic Registration approval by Thesis Dept.
Thesis Dept. will be able to download and evaluate candidates Topic Registration details in PDF format.
Thesis Dept. can approve the request and it will be sent to the next higher authority for approval once approved by Thesis Dept..
Thesis Dept. will be able to check list of candidates whose Topic Registration is approved in Approved Student List.
2) Send back to Students
Thesis Dept. can send back candidates request with Remark in case of any recommendation in Topic Registration.
If Thesis Dept. choose an option of send back to students, candidate will be able to resubmit it with suggested changes.After re-submission by candidate,request will be sent to all concerned authorities again for approval.
Thesis Dept. can check Sent back candidate list in Sent Back to Student List tab.
Step by step
Follow Below mentioned steps

1) Job tray in Thesis Dept. login : Student Topic Registration Approval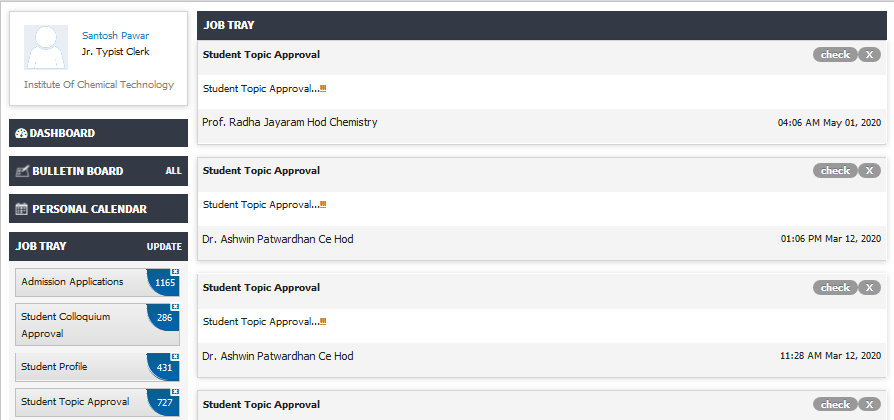 2) Topic Registration approval by Thesis Dept.


3) Send back to student with Remark