Document Verification
From JUNO Wiki
Document Verification
Document verification is one of the important step before the final admission. This step is important to scrutinize the uploaded data or document by the applicants.
Document verification status of each applicant can be maintained in the system which can be notified at the time of final admission.
While verifying documents, admin can mark Physical document submission status also whether Xerox copy or original document is submitted.
Role
Admission Admin
Path
Admission Admin >> Applicants >> Document Verification.
Inputs Needed
Document submission status- Xerox/Original.
Functionality
Verification of submitted document.
Upload of document on behalf of applicant.
Applicant profile can be viewed/edited.
Verified documents can be viewed or can be downloaded.
Criteria details can be re-verified at this stage also
Step by Step
Document Verification Status- Document verification status can be verified.
Student Status- Student status can be seen weather he/she is pursuing or in process.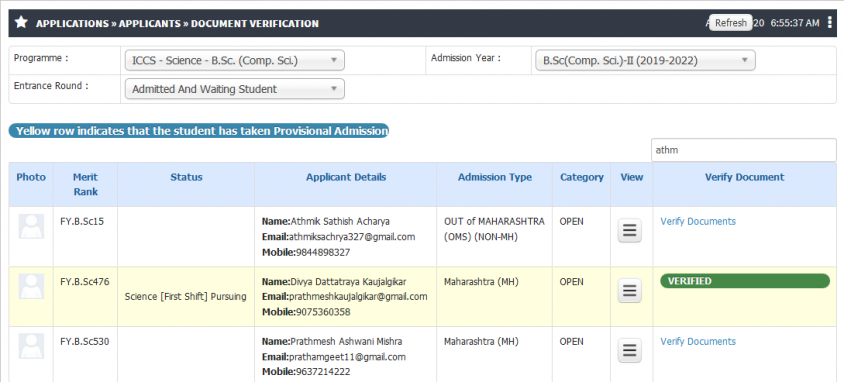 Document Verification
Document verification can be done through this UI.
Submission status can be maintained (Xerox/original)
Document can be uploaded on behalf of applicant
Uploaded document can be removed or re-uploaded.