Faculty Dashboard
From JUNO Wiki
Faculty Dashboard
Faculty Dashboard provides an at-a-glance view of Dashboard, Bulletin Board, Job Tray, Alert Tray, Option to send Message, Document, etc. Faculty can have easy access to the daily activity from Dashboard itself.
Roles
Faculty Login
Path
Faculty login >> Dashboard
Functionality
1) Message, Document, Link and Email
Allows an faculty to send message to students, fellow faculty and other users via SMS, Email.
Faculty can share Documents or easy access links with other users in institute.

2) Dashboard
Dashboard gives an elaborated view to faculty of their Profile, Daily Session, Teaching Department, Workload, etc.
Access to quick links under dashboard allows faculty to easily access academics, personal and other modules.
Quick link allows to check their regular Scheduler, Workload, Memo, Leave, Muster, etc.
3) Bulletin Board
Bulletin board displays the message or any document that is shared with faculty by any other user in an institute.
Any attachment shared can be downloaded and faculty can comment on post shared with them on bulletin board.
4) Personal Calendar
Personal calendar shall display the on going events or any upcoming holidays in an institute.
Faculty can view calendar for all the upcoming activities by institute.
5) Job Tray
Job tray alerts are generated when an task is allocated to a faculty and he has to take necessary action on same.
By clicking on Job alert faculty can read the message and take necessary action.
Example could be student applying for leave and faculty gets an job tray alert to approve or reject the same.
6) Alert Tray
Alert tray are generated when an faculty gets an notification but no action is required.
By clicking on alert faculty can read the message.
Example could be Faculty applying for leave and their superior head approving the same shall generate notification alert to faculty for approved leave.
7) Quick Links
Quick links has can access to Notice, Forum and Blogs.
Faculty can read the upcoming Notice shared with them, can read Blogs and participate in Forum discussions.
Step by step
Follow Below mentioned steps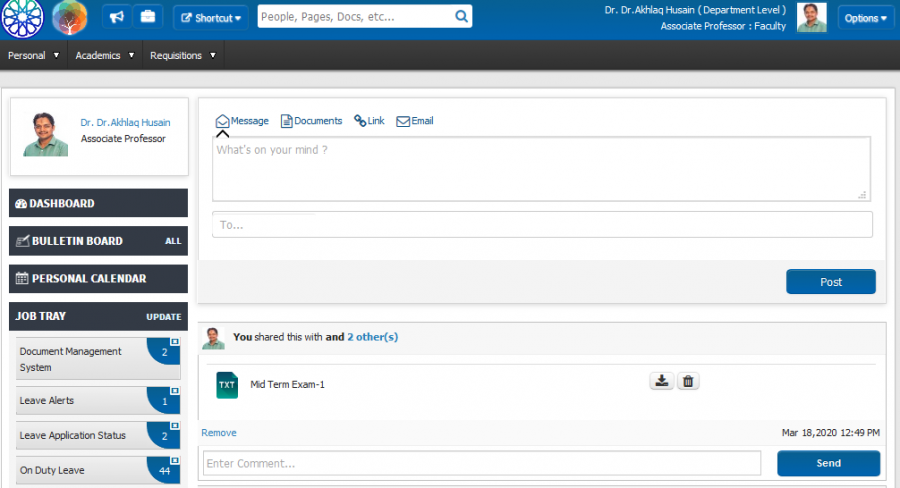 Message, Document, Link and Email