Sponsorship Bodies
From JUNO Wiki
Sponsorship Bodies
Sponsorship bodies are the governing bodies who takes either complete responsibility of student fees or sometimes partial. These bodies takes responsibility either quota or category wise or in some cases gender wise as well.
In case of sponsorship discounts, receivable to institutes divides into receivable from student and receivable from sponsorship body.
Sponsorship bodies later transfer student wise amount to institute. Institute then settles these amounts to make sponsorship receivable null.
Role
Finance Admin
Path
Finance Admin >> Fee >> Academic Fee Fixation >> Fee Sponsorships.
Finance Admin >> Fee >> Academic Fee Fixation >> Academic Fee Fixation
Terminology Used
Sponsorship Body- Sponsorship body is governing body responsible for students fee.
Inputs Needed
For creation of sponsorship body
Name
Abbreviation
Address
Mobile no
Land-line no
Std-Contact no. 1, 2 & 3
FAX no
Description
Type of Sponsorship- Category wise/ Gender & Category wise
Category wise concession percentage
Fee heads for which sponsorship is giving concession.
For applying sponsorship
Admission type & category wise concession amount.
Functionality
Adding new sponsorship body
Applying sponsorship to fee structure.
Step by Step
Adding Sponsorship Body

Category wise sponsorship discount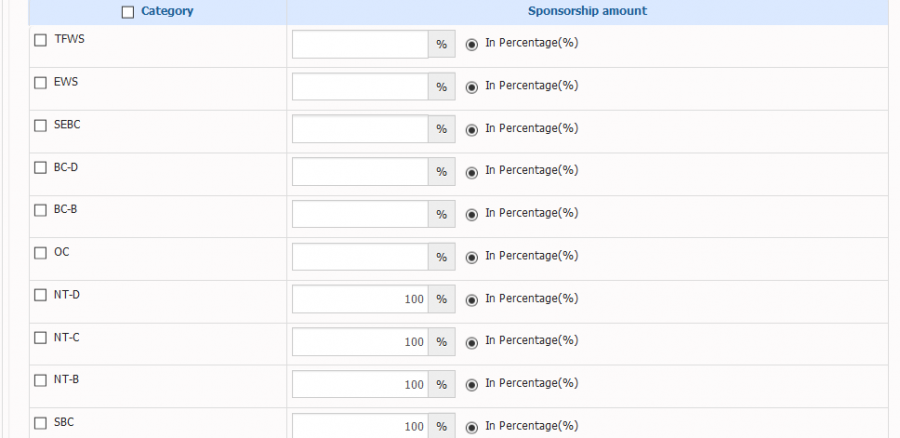 Contact Details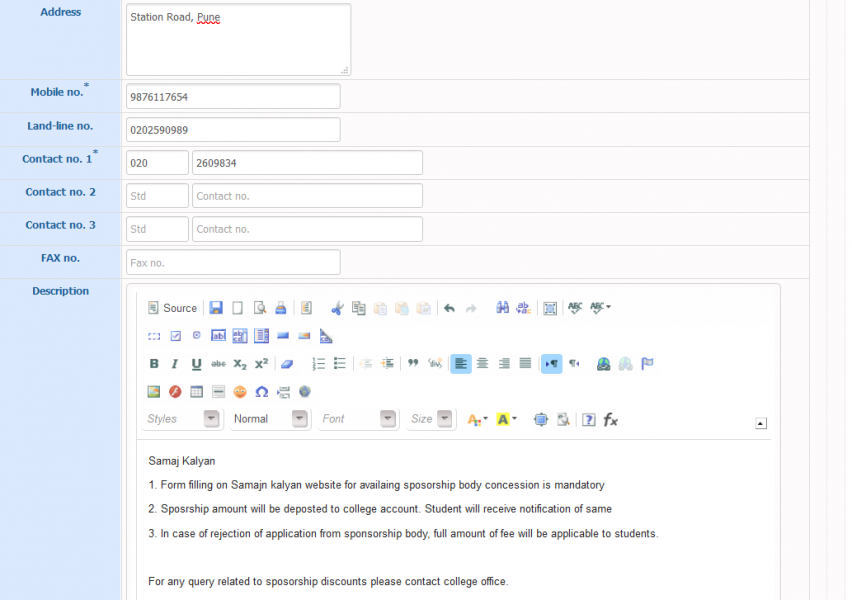 Category wise sponsorship discount

Discount applicable fee heads.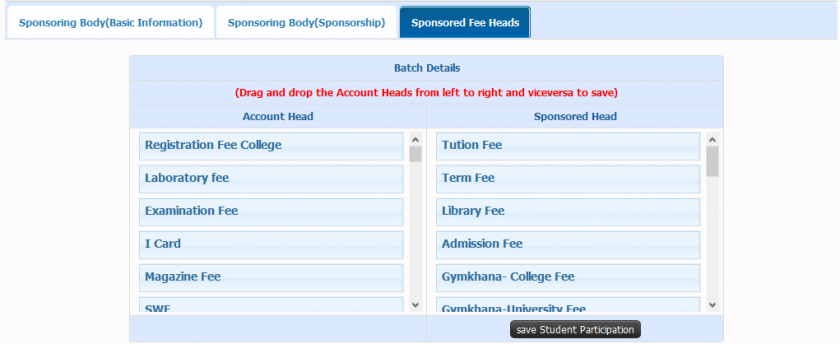 Sponsorship body discount in fee strcuture