LTA
From JUNO Wiki
Leave Travel Assistance (LTA)
Leave Travel Assistance (LTA) is a type of allowance which is provided by the employer to his employee who is traveling on leave from the work to cover his travel expenses. LTA is an important component of the salary of the employee as it is eligible for income tax exemption as per the Income Tax Act, 1961.
LTA forms a part of an employees CTC (Cost to Company).
Roles
Finance Admin
Leave Admin
Staff / Faculty Admin
Path
Salary » Other Reports » Leave Travel Assistance Report
Purpose
LTA is an exemption for allowance/assistance received by the employee from his employer for traveling on leave.
The system provides functionality to pull up the LTA report which helps to easily understand which employees have availed LTA.
LTA can be configured as per the standard guidelines of Income Tax Act, 1961. However it can be configured as per the requirement of the organization.
Just as regular leaves, the system allows to select sanctioning authority for LTA which can be configured.
LTA Configuration
A block year is different from a financial year and is decided by the Government for LTA exemption purposes. It comprises of 4 years each. The very first 4-year block commenced from 1986. List of block years are 1986-1989, 1990-93, 1994-97, 1998-2001, 2002-05, 2006-09, 2010-13 and so on. The block applicable for the current period is the calendar year 2018-21. The previous block was the calendar year 2014-17.
As an employee can claim LTA exemption only for two journeys in a block of four years. The block applicable for the current period that began in January 2018 and ends in December 2021.
Which leaves can be claimed for LTA?
Earned Leave of the type grouped leave should be configured with sub leaves as encashable and non-encashable.
Reflection
The system generates reports for the Employee LTA details. This report gives an overview of employees who have claimed LTA, employees whose LTA amount has lapsed and the number of claims done by employee in the current block period.
When an employee is eligible and fits in all the configured criteria, a claim form is visible on leave application page.
Employee is required to fill the form and enter entitlement amount.
The request is sent to alternate and reporting managers for approval.
After reporting manager approval, request is forwarded to the finance admin for amount verification.
If the entitlement is verified and approved by finance, it forwarded to the final sanctioning authority which was selected in configuration.
Final sanctioning approved request is again forwarded to the finance for payment voucher generation.
Report provides an overall view of all employees and their claim status, next claim date, entitlement, last Basic + DA, etc.
Step by Step

LTA Configuration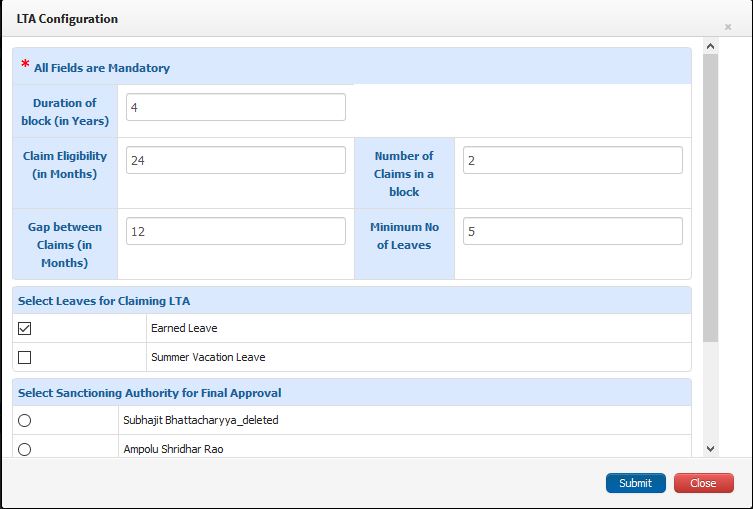 LTA Application Form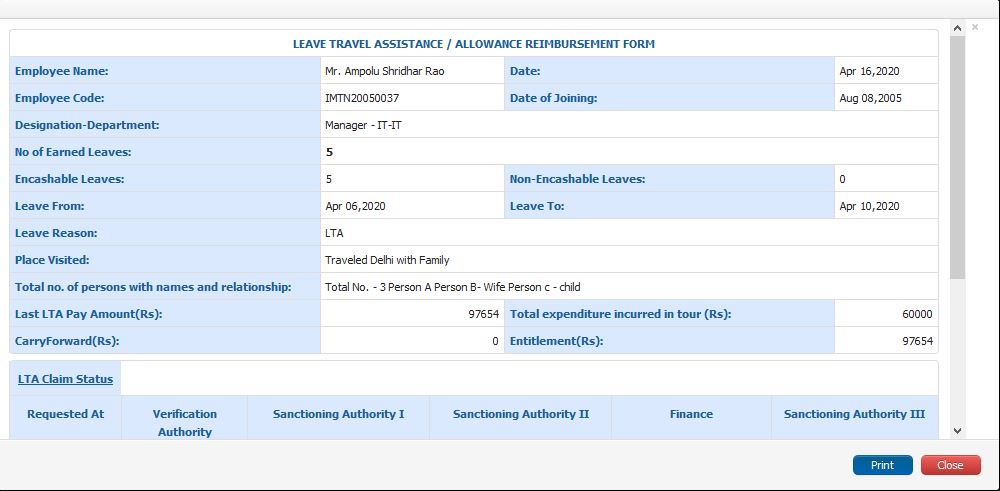 LTA Claim Request