Submission of Synopsis by Student
From JUNO Wiki
Submission of Synopsis by Student
The synopsis should give an overall outline of the Thesis being prepared. The layout of the Synopsis shall contain Abstract of Research Project Topic, Research Objectives and scope of the Project,materials & Methods,Results & discussion and conclusion.
The Candidate desiring to submit a thesis for the Master or Ph.D degree shall submit synopsis of the thesis in the prescribed format before submission of the thesis.
Synopsis submitted by candidate will be sent to the respective competent authority and/or Dean of Faculty for evaluate and approve.
Roles
Student
Path
Student » Academic Functions » Home Paper/Seminar/Project
Pre-requisites
 Student should be in a running batch (semester).
Student should be mapped with faculty and Research Project.
Component configuration should be done from academic admin.
Payment configuration should be done from academic admin if required.
Terminologies Used
Co-Guide : Co-Guide shall mean an additional Guide from the University/Constituent Unit and an outside organization,to help in the accomplishment of the research work of the candidate.
ORCID :Your ORCID iD is a unique, open digital identifier that distinguishes him/her from every other researcher with the same or a similar name to you.  Anyone who participates in Research, Scholarship, or Innovation can register an ORCID iD for themselves and use the same iD throughout his/her whole career.
Inputs Needed
Synopsis Profile (Like Project Details,Guide & Co-Guide details,Registration details)
Classification & Keywords which will be included in Research Project
Reference
Credit & Audit Subjects completion certificate
Functionality
Able to pay synopsis fee online.
Candidate will be able to submit his Synopsis online.
Candidate will be able check approval & progress of evaluation of Synopsis of various Competent authorities configured.
Candidate will be able to resubmit synopsis online if rejected or in case of any changes to be added suggested by Guide.
Primary Functionality :
CASE 1 :- Submission of Synopsis Using Template
Candidate can submit his/her synopsis using standard template available in the system which covers all the fields including student registration details, project abstract to student credit & audit subject completion certificate.
CASE 2 :- Submission of Synopsis Using Upload option
We have also provided upload file functionality which can be used in case you follow different format of Synopsis.
Once it is submitted by candidate respective authority will get the communication to approve and evaluate the synopsis.
Step by step
Follow Below mentioned steps

Path : Academic Functions » Home Paper/Seminar/Project
1) Research Project Subject

2)Synopsis Component

3)Guidelines to submit the Synopsis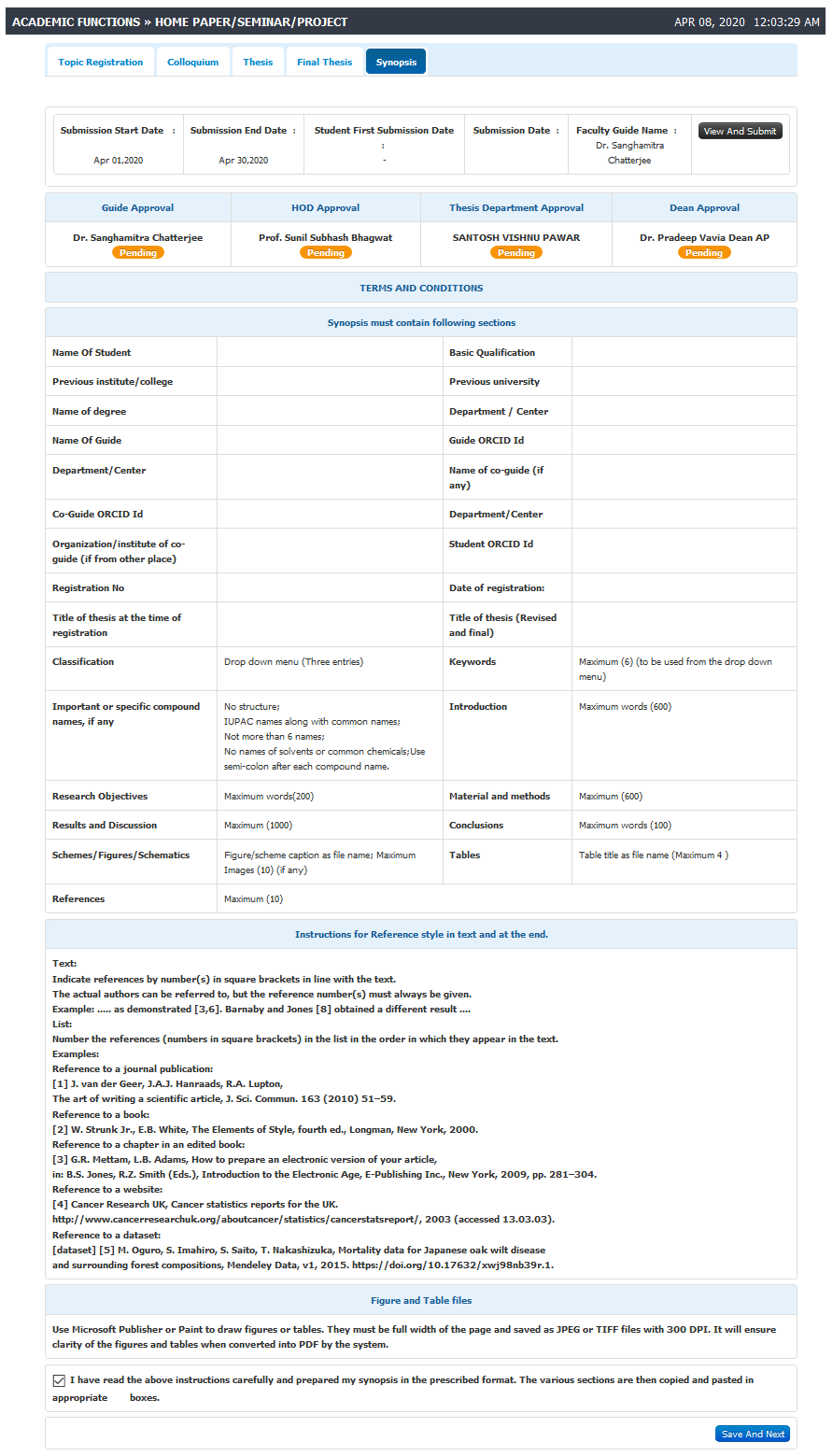 4)Submission Of Synopsis