Inventory Reports
From JUNO Wiki
An inventory report is a summary of all type of transaction of the inventory management. Inventory reports contain up to date information which make it clear how many of a given item you have in stock. Inventory reports help you avoid over ordering inventory or running out of inventory when user ask to issue in inventory requisition. Inventory reports help you run your business without interruption or breaking the bank. They can help you cut costs and reduce the risk of running out of stock. Inventory reporting may just seem like extra time or paperwork, but it can save you a ton of money and unnecessary effort.
Roles
Inventory Admin
Path
Reports » Consumption Analysis
Reports » Current Available Stock
Reports » Stock Update Statistics Report
Reports » Inventory Purchase Report
Reports » Inventory Static Report
Reports » Purchase Request Analysis Report
Reports » Inventory Inward Outward Report
Reports » Inventory Transaction Report
Reports » Pending Acceptance Report
Functionality
Admin have provision to check the consumption report Department wise, Employee wise, Reason For Issue wise, Event wise and Date wise.
Admin can check Current available stock as on date with Nill quantity.
Admin have the provision to check the stock update details.
Inventory purchase details can be view and can be exported by the admin.
Admin can view the product quantity, Minimum, Maximum, Reorder Quantity and can be export the same with Nill quantity.
Inward Outward quantity can be check period wise and same can be export in to excel.
Inventory transaction can be view on a single UI with different status.(Pending, Accepted, Allocated, Rejected). Department wise and Employee wise inventory transactions can be exported.
Pending inventory acceptance can be exported with employee name, product quantity and Issue date.
Screen Shots / Steps
Consumption Analysis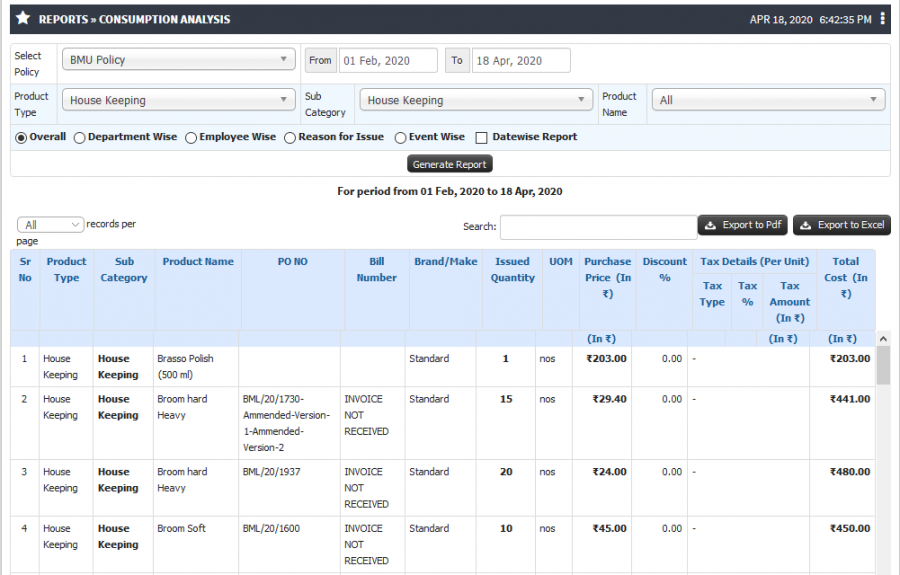 Current Available Stock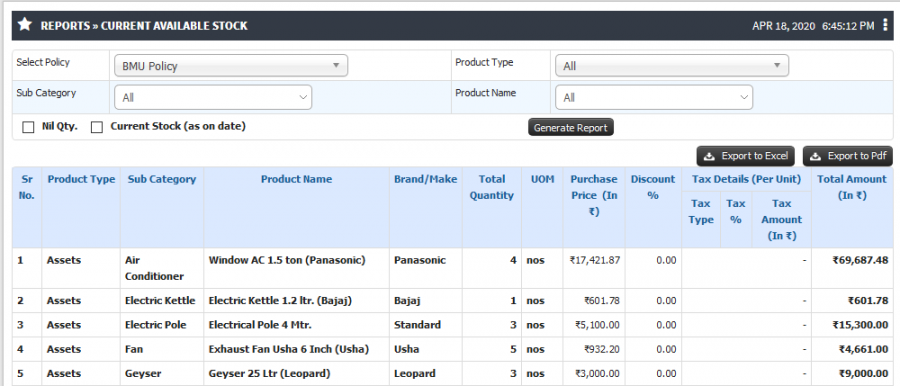 Stock Update Statistics Report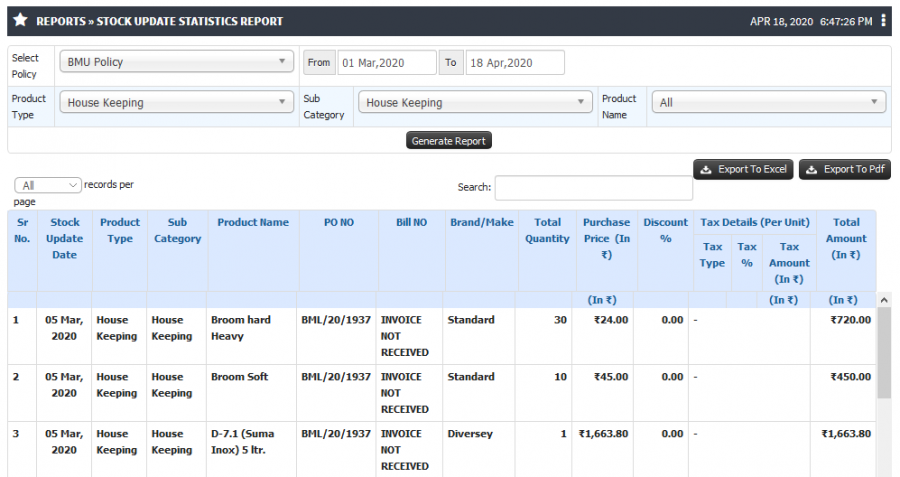 Inventory Purchase Report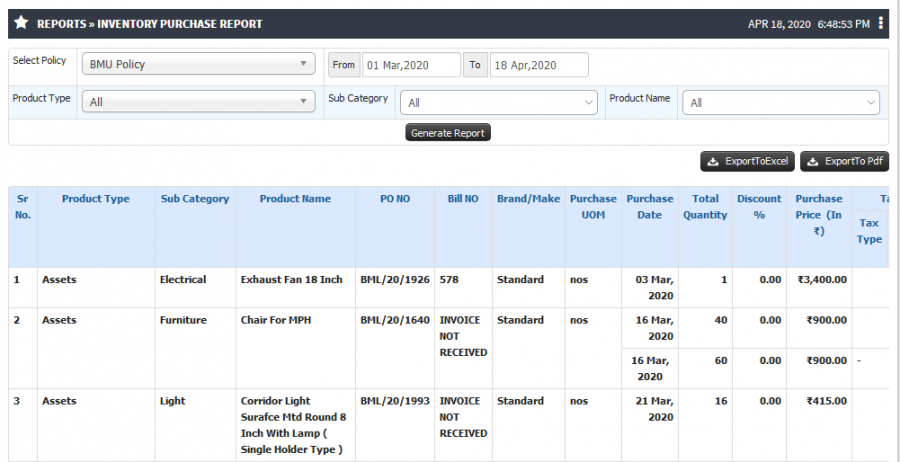 Inventory Static Report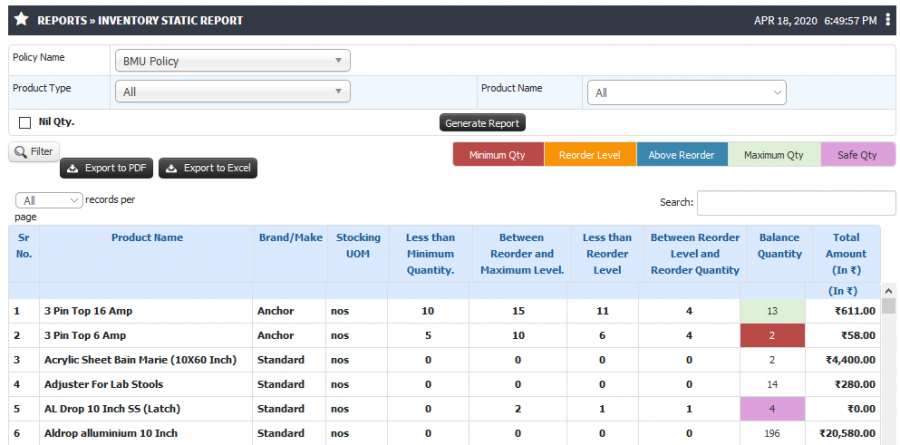 Purchase Request Analysis Report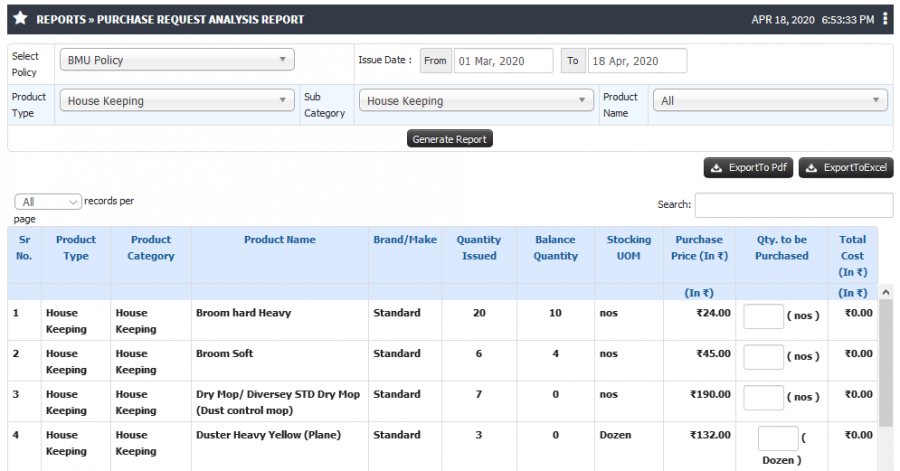 Inventory Inward Outward Report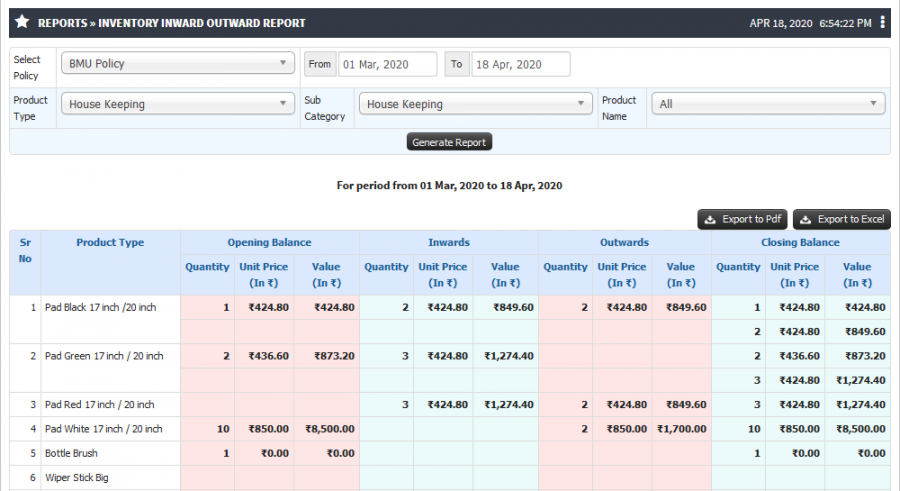 Inventory Transaction Report

Pending Acceptance Report