Full and Final Settlement
From JUNO Wiki
Full and Final Settlement
Full and Final Settlement commonly known as FnF process is done when an employee is leaving the organization. At this time, he/she has to get paid for the last working month + any additional earnings or deductions. The procedure has to be carried out by the employer after the employee resigns from their services.
Prerequisite
Renewal policy should be configured
Retirement policy should be configured
Resignation policy should be configured
Termination policy should be configured
Role
Finance Admin
Path
No Dues » Employee
Inputs Needed
Organizations Resignation Policy.
Department wise, post wise resignation policy.
Terminology Used
FnF : Full and Final Settlement
No Dues : Clearance to be obtained from each department for no dues on either employee or employer's side.
Functionality
Full and Final Settlement commonly known as FnF process is done when an employee resigns from their services and the resignation needs to be approved from the reporting authorities.
Depending upon how the Resignation Policy is configured, the employee will have to obtain No-Dues from defined authorities
Full and final settlement will happen from the Finance department.

The settlement will include Leave en-cashment
Adjustment of any Employee Expense/Advance
Any settlement from other departments like library, stock, leave and guest house etc to be done in the finance department
Any other settlement claim from the Employee or Organization

Once the settlement agreement is done, the Finance Department will notify the HR Department to Process the Relieving Letter and Experience certificate
The HR Department then can handover the Relieving Letter and Experience certificate
Step by Step
Full and Final Settlement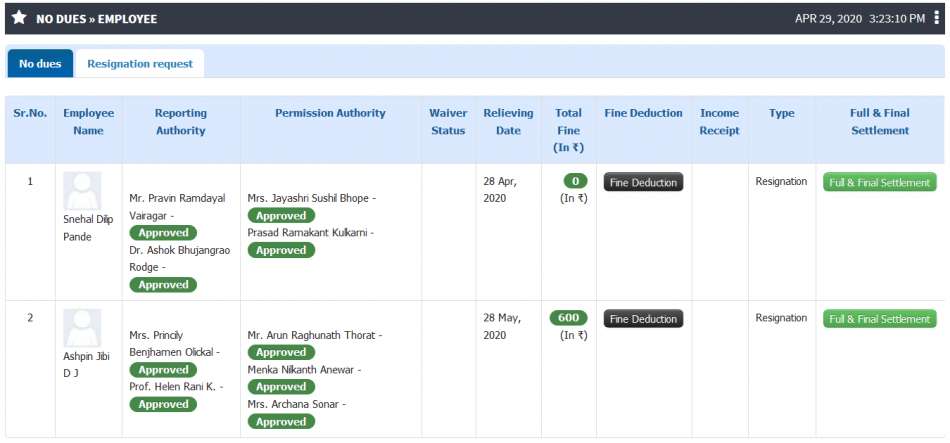 Fine Deduction