Applicant Employee Profile Report
From JUNO Wiki
Guideline Configuration
Recruitment liaisoning, Recruitment Process should have created. Employee Profile must already be filled.
Applicant Employee Profile Report Configuration
Recruitment Process - select the recruitment process name from the drop down.
Application for - Select for which application we want to generate report.
Post - Select the post for which we want to generate report.
Role
Recruitment Admin
Path
Recruitment Admin » Reports » Applicant Employee Profile Report
Inputs Needed
Personal Details
Family Details
Medical details
Qualification
Skill Upgradation
Subject Taught
Work Experience
Reference
Impact Factor Anaylsis
Patents
Awards and Honors
Salary Structure
Testimonials Persons
Vision / Mission / Efforts
Research Work Features
Future Plans
Research Projects
Other Examinations
Current / Guided Students
Research Publications
Fellowship
Payment Details
Conference / Seminar / Conclave
Contribution to Science and Engineering
SSC and HSC Details
Collaboration
Additional Qualification
Functionality
Applicant employee profile report can be generated such as personal details, family details, qualification details, salary details etc.
Generated report can be exported into the Excel or PDF format.
We can get the applicant employee profile report for scrutiny.
It allow us to export all the employee filed or selected filed of employee profile into the Excel or PDF.
It allow us to download all employee PDF and also we can download all employee document in PDF.
Step by Step
Applicant Employee Profile Report Page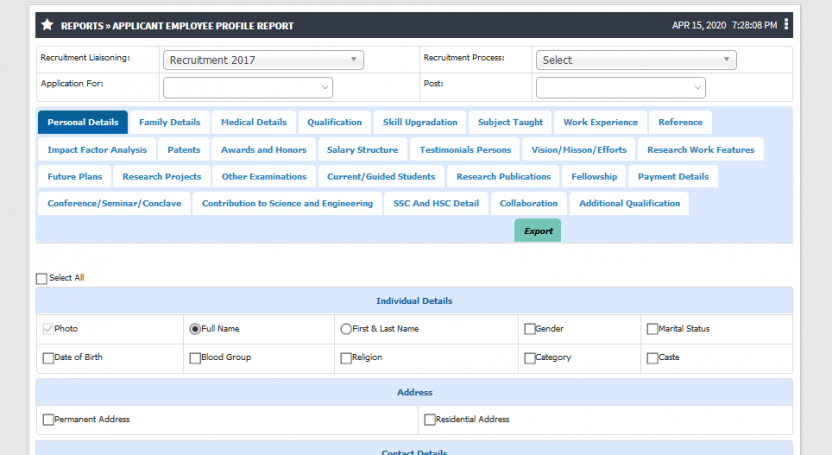 Export Applicant Employee Profile Report Page