Resignation
From JUNO Wiki
Resignation Policy
An employee can apply for his resignation through his Login.
Resignation application goes to the Approval authorities, for them to accept the request.
Resignation Policy includes definitions of
Time period from joining, after which an employee can give resignation.
Notice Period Duration, either in terms of Tenure from date of joining, or tenure from date of resigning.
Other rules/conditions applicable in the Notice Period.
Departments/Authorities from where NO-DUES need to be obtained before getting relieved.
Any other Rule
Other then Resignation, Retirement and Termination Policies can also be defined.
Role
Head Admin : To accept and forward the Resignation Resignation
Staff / Faculty : Can apply for Resignation from their Login
Finance Admin : For Full and Final Settlement
HR Admin : for Handing over Relieving Letter and Experience certificate
Path
Head Admin » Posts » Policy Configuration
Requisitions » Service Related » Resignation
Inputs Needed
Organizations Resignation Policy.
Department wise, post wise resignation policy.
Terminology Used
Resignation : Voluntary Relieving from services desired by employee
Termination : Forced Relieving from services by management
Retirement : Relieving of services due to age thresh-hold
FnF : Full and Final Settlement
No Dues : Clearance to be obtained from each department for no dues on either employee or employer's side.
Tenure : Time Period calculation
Functionality
Resignation process starts from employee login, when he applies voluntary for relieving from services
Employee fills the details such as whether he is ready to pay the Notice period or he will serve the notice period etc. and send a resignation request to the Manager
The request can be accepted/declined by the Reporting Manager.
Depending upon how the Resignation Policy is configured, the emplyee will have to

Fulfill all conditions
Obtain No-Dues from defined departments/authorities

His Full and final settlement will happen from the Finance department.

The settlement will include Leave en-cashment
Adjustment of any Employee Expense/Advance
Any settlement from other departments like library, guest house etc to be done in the finance department
Any other settlement claim from the Employee or Organization

Once the settlement agreement is done, the Finance Department will notify the HR Department to Process the Relieving Letter and Experience certificate
The HR Department then can handover the Relieving Letter and Experience certificate
Step by Step
Resignation Policy Configuration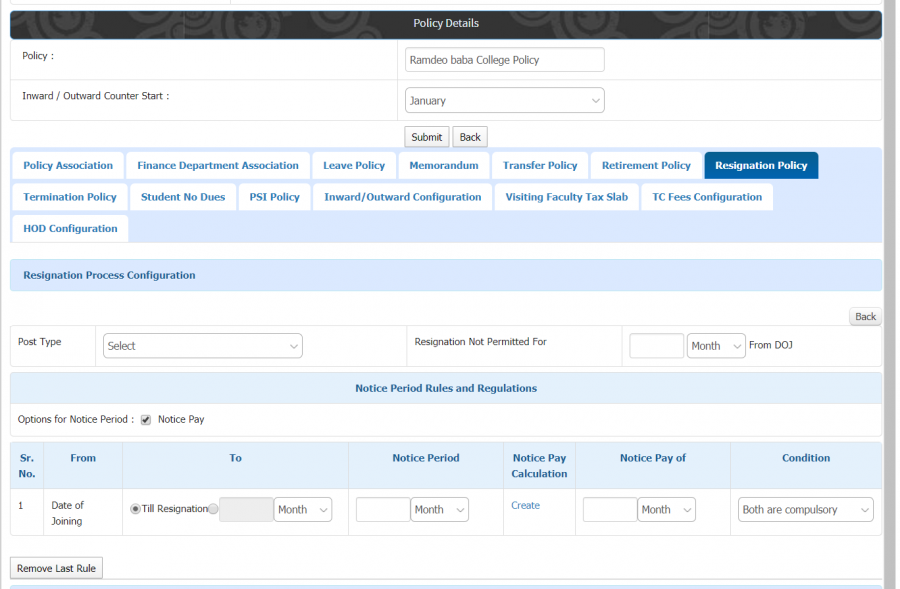 2. Other Rules Associated with Resignation and
3. No - Dues from different Departments/Authorities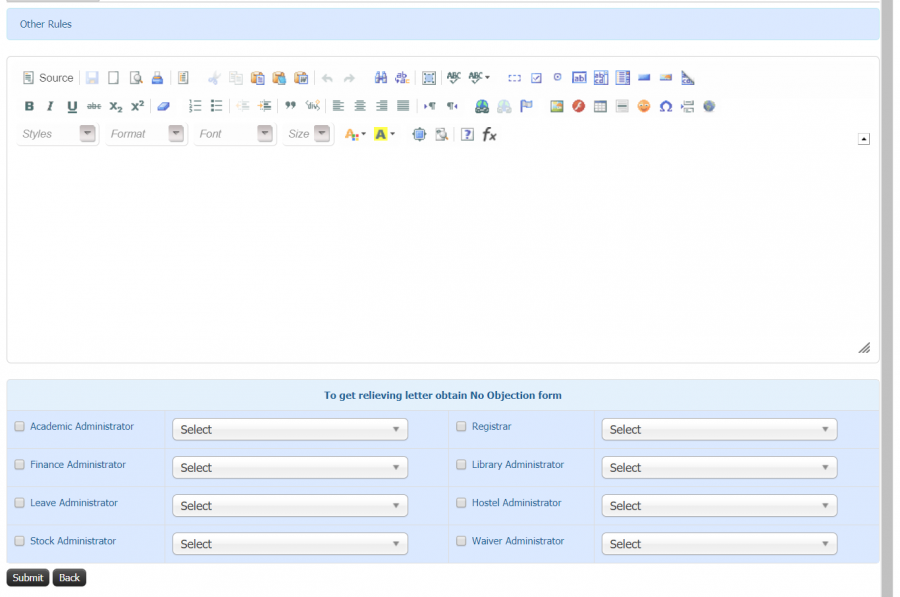 4. Retirement Policy Configuration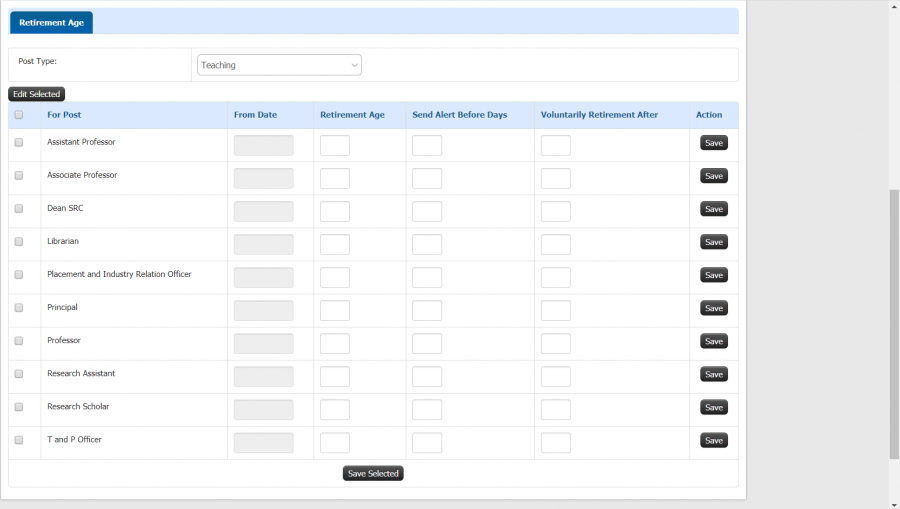 5. Resignation Application from Employee