Topics/Subtopics
From JUNO Wiki
Topics/Subtopics
The Course Outline topics and Sub-topics can be defined from either Academic Admin or faculty login. These Topics and Sub-topics are associated with the sessions(lectures) that are to be conducted for respective course.
Roles
Path
Academic Admin : Organization » Syllabus Configuration » Course Outline
Faculty : Academics » Course Outline
Inputs Needed
Course Topics and Sub-topics details.
Reference Books Preferred, Pre-requisites for preparation and Lecture Objective.
Functionality
The entered Topics/Sub-topics are mapped with the sessions that are to be conducted for given course.
Can be Replicated to other Programs and batches.
Excel can be used to upload the Topics and Sub-topics.
Added Topics and Sub-topics can be edited or deleted whenever required.
Step by Step
1. Add Topics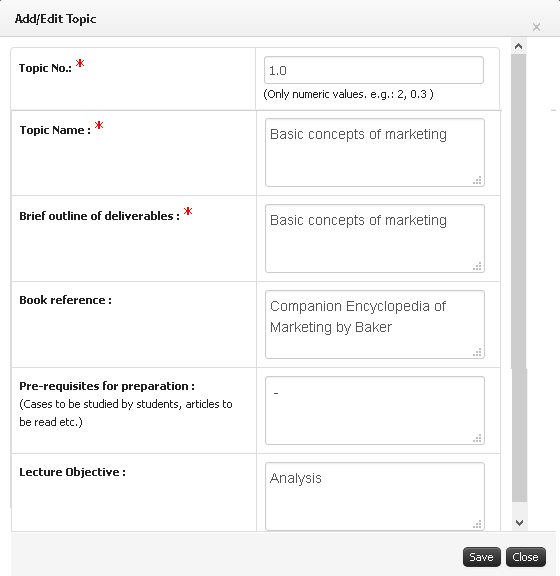 2. Add Sub-Topics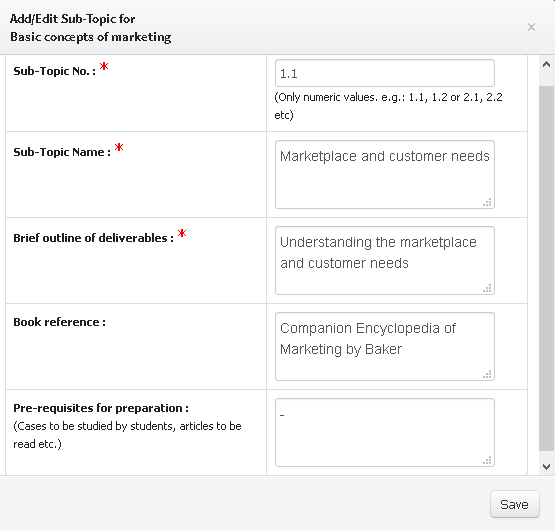 3. View Topics/Sub-Topics