Guest Room Booking
From JUNO Wiki
Guest Room Booking
Guest room booking enables selection of rooms to be allocated to the guests. Entire process of rooms allocation, check-in, check-out, invoicing, etc. can be carried out.
Roles
Hostel Admin, Warden
Path
Hostel Admin >> Hostel Allocation >> Guest Room Booking
OR
Warden login >> Hostel Allocation >> Guest Room Booking
Inputs Needed
Hostel Policy applicable.
Active Hostel plan.
Dates for check in and check out.
Functionality
Guest room booking.
Event booking
Check in option.
Check out option.
Available room list.
Guest room booking history.
Booking calendar view with different color indicators.
Configuration and it's effects
Primary Functionality
1. Room Booking
By selecting dates list of requisition appears.
By clicking on book now option user will be routed to room allocation page.
Available room can be selected by specifying the count for guests.
Confirm the charges mode and save the bookings.
2. Event Booking
By selecting dates list of booking appears.
Based on selection of entry user gets routed to checkout page.
Check out process can be completed for an event.
3. Check-In
After booking confirmation process the booking details goes to check in page.
By selecting booking details changes in allocation can be made.
On change booking page details like applicable tariff, concession, etc. can be specified.
Allocation or De-allocation of room can be done.
Post room allocation income receipt can be generated for the transaction.
Once checked in the guest details moves to next tab that is check out.
4. Check-Out
Guest check in details shall appear in the listing.
By selecting an entry user can extend the stay or opt for check out option.
For extending stay it shall ask to selecting new checkout date.
At the time of checkout any additional charges applicable can be entered and same can be settled by clicking on Income receipt.
Option to print receipt.
5. Available Room
By selecting Hostel building and floor list of total rooms in that building appears.
Capacity, availability and charges for the rooms will be mentioned.
Different color indicators for available, allocated and fast filling rooms.
6. Guest Room Booking History
Booking history will be listed.
Guest booking history details will be visible.
7. Booking Calendar
Booking calendar month wise would be visible.
Color indicators for allocated rooms, checked-in rooms, etc.
Step by step
Follow Below mentioned steps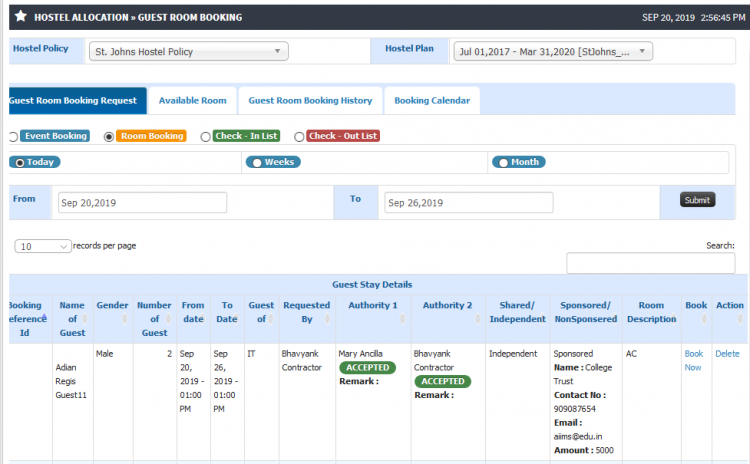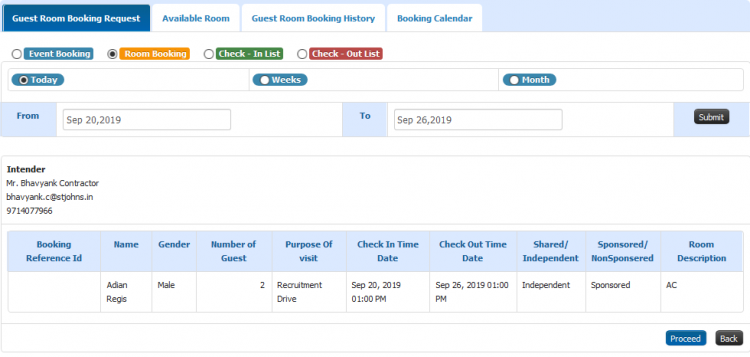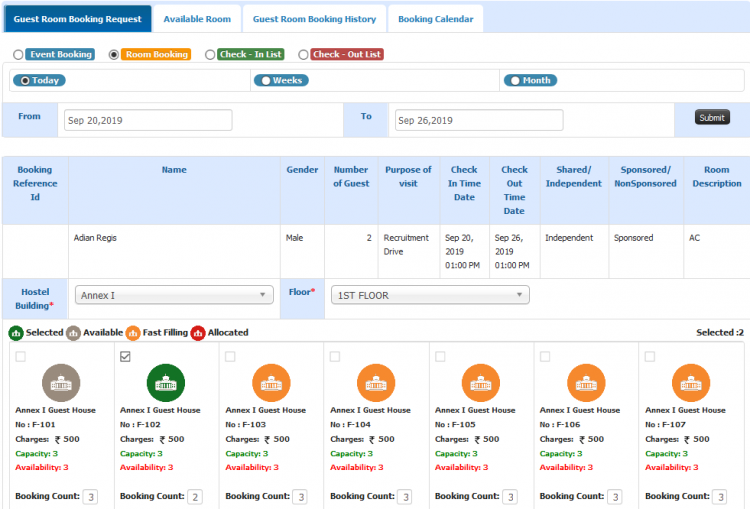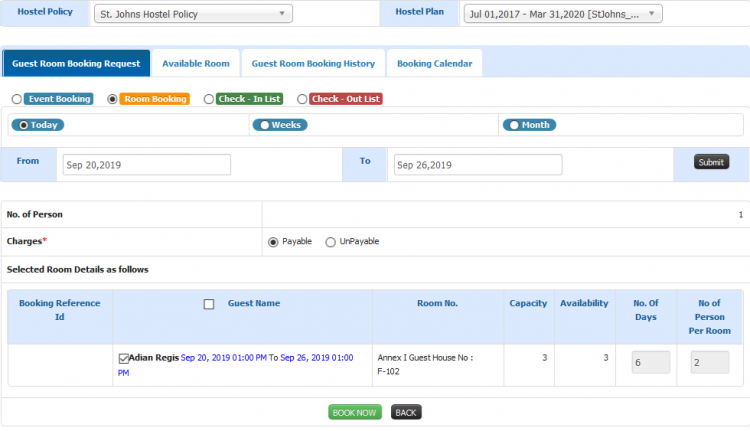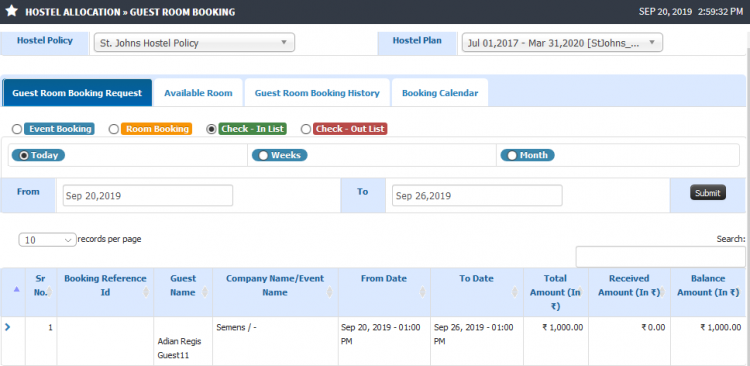 Change Room details for allocation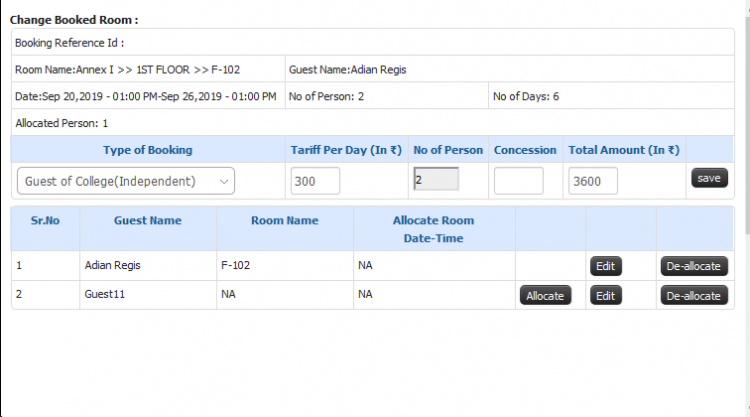 Allocation and Actual Check-in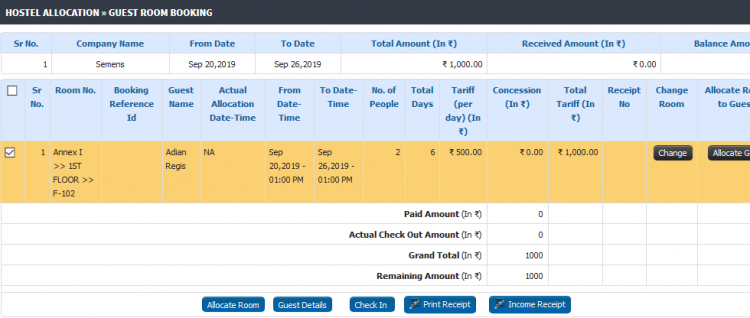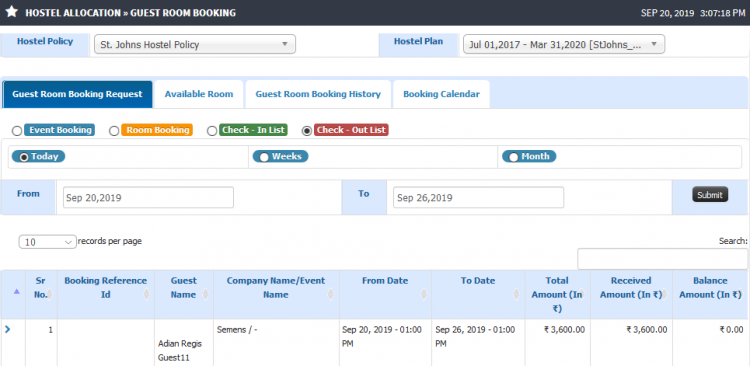 Additional Charges applicable

Guest Room Booking History