Project Guide Configuration
From JUNO Wiki
Research Project Guide Configuration
For evaluation of Research Project certain authority approval is required of Internal and External Examiner that you can define with their Honorarium amount Research Project Guide Configuration.To allocate Guide and enter No. of Students to the faculty Research Project Guide Configuration Need to be done.
Roles
Path
Research Project Guide Configuration
Academic Admin » Organization » Project Configuration » Project Guide Configuration
Pre-Requisite
Academic Admin Login should be given
Research Project Subject should be Configured in Exam Admin and replicated to Academics
Terminologies Used
Guide : Guide shall mean a member of the academic staff of the University/Constituent Unit, who guide/supervise the research work of the candidate.
Referee : A referee is someone who has been given the responsibility of evaluating the suitability of thesis and the candidate for the award of PG and Ph.d.
Input Needed
Research Project Configuration
Approval Authorities
Referee Choice (Minimum No.Of Referee)
Referee Payment Configuration(For evaluation of thesis and Open defense)
Guide Seat Availability
Minimum no. of Topics
Guide(Faculty) Allocation
Functionality
Research Project Configuration
Able to Configure or Change Research Project Configuration
Able to allocate/de allocate Guide(Faculty) associated with the Particular Programme
Able to check allocated Guide(Faculty)
Able to enter no. of students faculty will Guide
Able to enter Minimum no. Of Topic from Guide
Step by step
Follow Below mentioned steps to define Research Project
1) Research Project Configuration to set Approval Authorities,Referee Choice,Amount for Thesis evaluation and conducting Open Defense of student.You can also allocate Guide(faculty) by using 'Allocate Faculty' button who will Guide students in their Research Project for particular programme/department.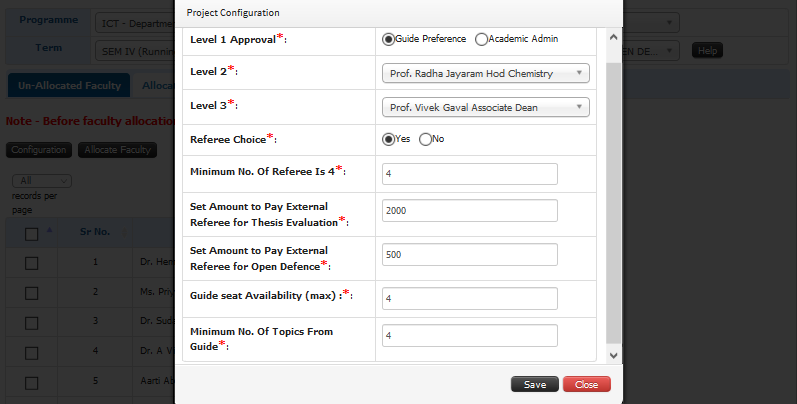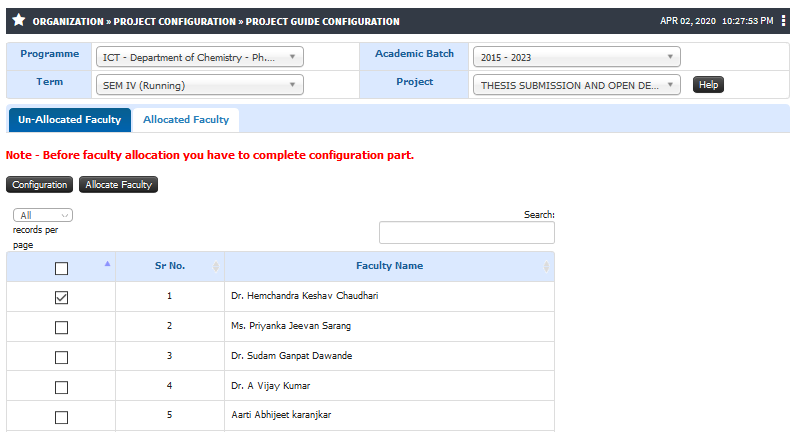 2) Once you allocated Guide(faculty) you can check allocated faculty and enter no. of student Faculty will guide in 'Allocated Faculty' tab.