Leave Availing Rules
From JUNO Wiki
Leave Availing Rules
Leave is a provision to stay away from work for genuine reasons with prior approval of the authorities. It may be granted for a casual purpose or a planned activity, on medical grounds or in extra-ordinary conditions. Accordingly, leave rules and norms have been categorized under various heads.
In this section we will see how we can set rules for availing any type of leaves.
Roles
Leave Admin
Path
Leave Configuration » Leave Policy Configuration
Terminology Used
Privileged Leave - 'Privileged Leaves' cannot be availed directly by the employee. To avail them the employee / staff needs to contact the leave admin. Privileged Leave is a kind of leave being sanctioned to the employee with pay.It may vary from 12 to 20 days in a year,varies from company to company. Before applying for privilege leave,you must get confirmed as to its availability with the manager HR/personal.
Inputs Needed
Leave Type must be created.
Post Type and Leave Applicability should be defined.
Functionality
Leave Availing Rules are a set of pre-defined conditions which can be configured in multiple ways depending on the type of leave for which the leave rules are to be defined.
Leaves Avail rules can be:
Can be Availed in Probation period? For Eg: Certain leaves such as Casual leaves cannot be availed during probation period while medical leaves can be available during the Probation period. This can be defined as per the organizations policy.
Availed through Group Only? For Eg: If an employee is claiming Vacation Leave it has to be 50 % of vacation Leave and 50% of EL (Encashable and non-Encashable)
Whether a specific leave type should be considered as Privileged leave type can also be defined.
From Joining Leave Avail After. For Eg: Casual leave can be availed only after the end of probation period of 6 months, then we can define it accordingly.
Max No of Days Allowed at a Time. For Eg: CL cannot be applied more that 3 in one application.
Min No of Days Allowed at a Time. For Eg: EL cannot be taken less than 03 days at a time.
No of Times Allowed per Cycle. For Eg: Annual Leave can be availed once in a calendar year.
Leave can be availed Throughout cycle or only a in a Specified Period. For Eg: Casual Leaves can be availed anytime during the leave cycle. While Vacation Leave can be applied between May 1st and June 30th Only.
Defining the Leave Rules is one time process which can be amended only if there is a change in the leave policy of the organization.
Step by Step
Selecting the Leave Type to specify leave availing Rules.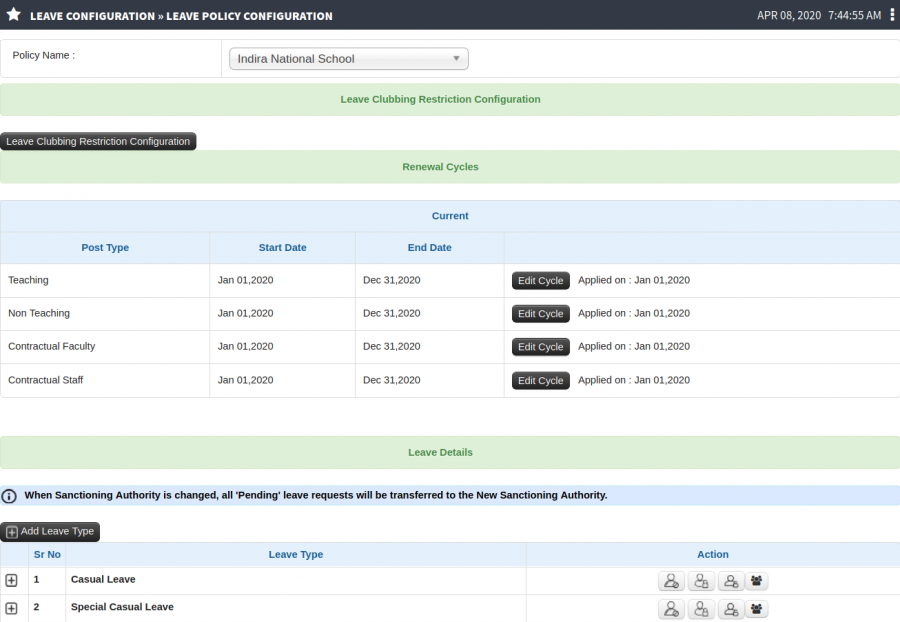 2. Editing Leave Availing Rules for specified Leave Type.