Paper Valuer
From JUNO Wiki
Paper Valuer
Paper Valuer is the authority who shall perform activities after the paper or exams are written. Paper valuer can perform tasks like Exam answer bundle allocation, Absent or Present student records, Receipt of blank answer book, etc.
Roles
Exam Admin
Path
Exam Admin >> Planning >> Paper Valuer
Pre-Requisite
Input Needed
Department
Exam Name
Exam Syllabus Pattern
Course(Subject)
Functionality
1) Answer sheet Bundle Allocation
Enables answer sheet bundle allocation.
Schema can be created by specifying Bundle name and quantity.
Answer sheet allocation with respect to student seat number and answer seat number.
Option to de-allocate or delete the student seat number for an allocated exam sheet.
2) Practical Slot Allocation
Practical exam slot allocation for courses(subjects).
3) Receipt of Blank Answer Book
Allows to get receipts for blank answer book.
Option to create barcode by defining prefix, suffix, number series, etc.
Barcode can be edited and renamed.
Barcode print option.
4) Absent Student Record
Provision to marks Attendance for student appearing for course(subject) exam.
Student who did not attend the exam can be marked absent.
Option to reset the attendance for particular course(subject).
If an exam had multiple question paper set you can allocated respective set to students via paper set option.
5) Invigilators Dairy
Invigilators Dairy enables paper valuer to enter the exam conduction details.
Exam details like exam date, subject, conduction center, total students,etc can be specified for each exam.
6) Paper Valuer And Spot Evaluator Duty
Exam duty for paper checking and spot evaluator can be allocated either employee wise or course wise.
User can select from list of employee for allocating duty.
7) Student Subject Details
List of Students appearing for particular subject shall be fetched.
Based on selection of exam pattern and semester list of seat numbers for students can be fetched.
Step by step
Follow Below mentioned steps

Answer sheet Bundle Allocation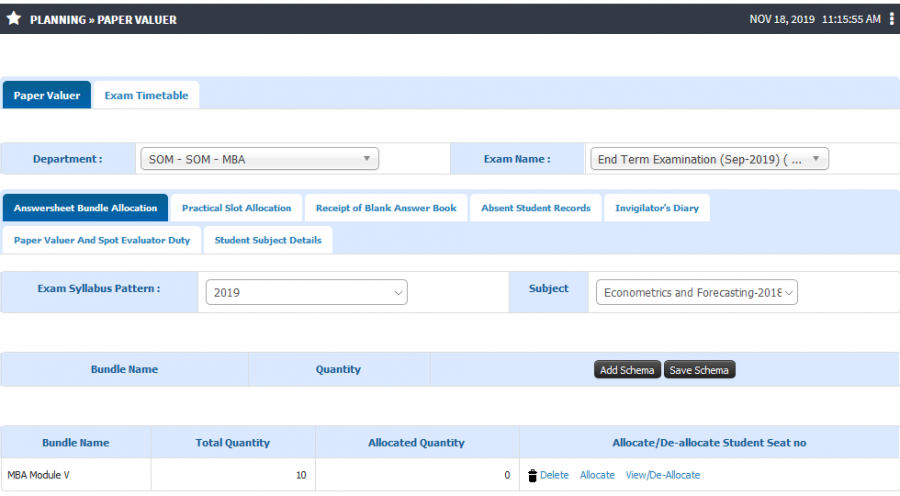 Practical Slot Allocation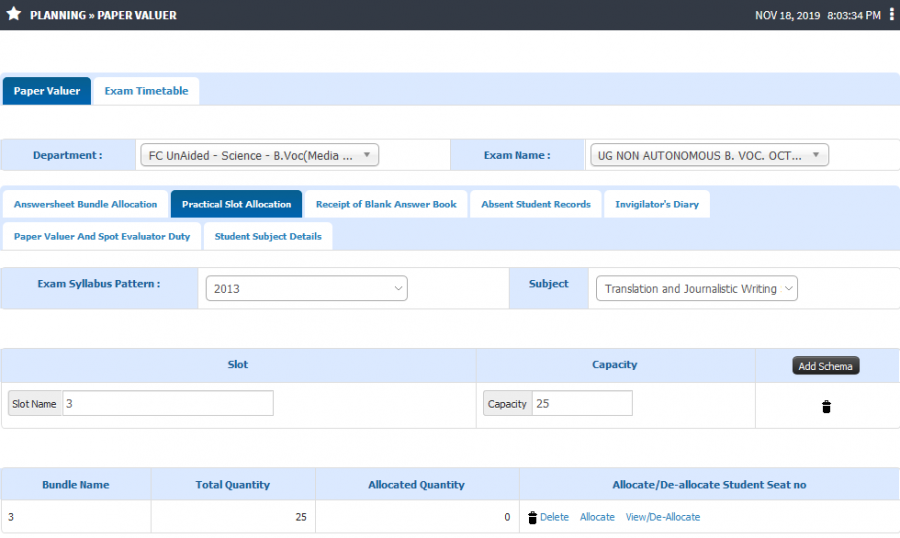 Receipt of Blank Answer sheet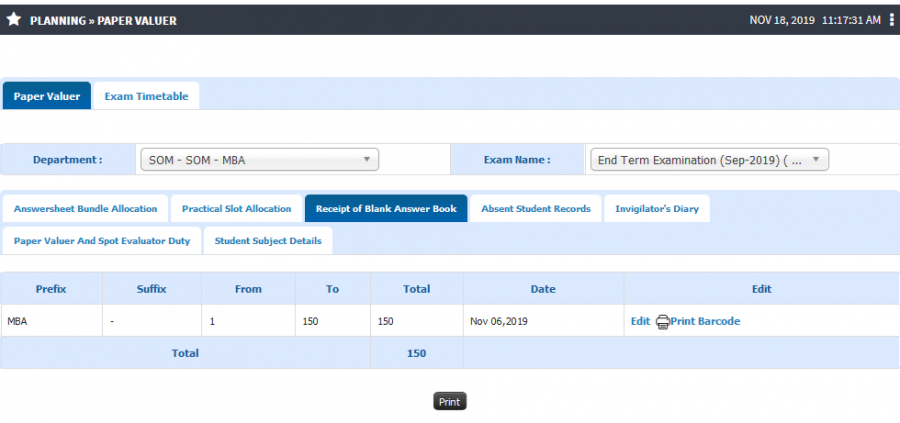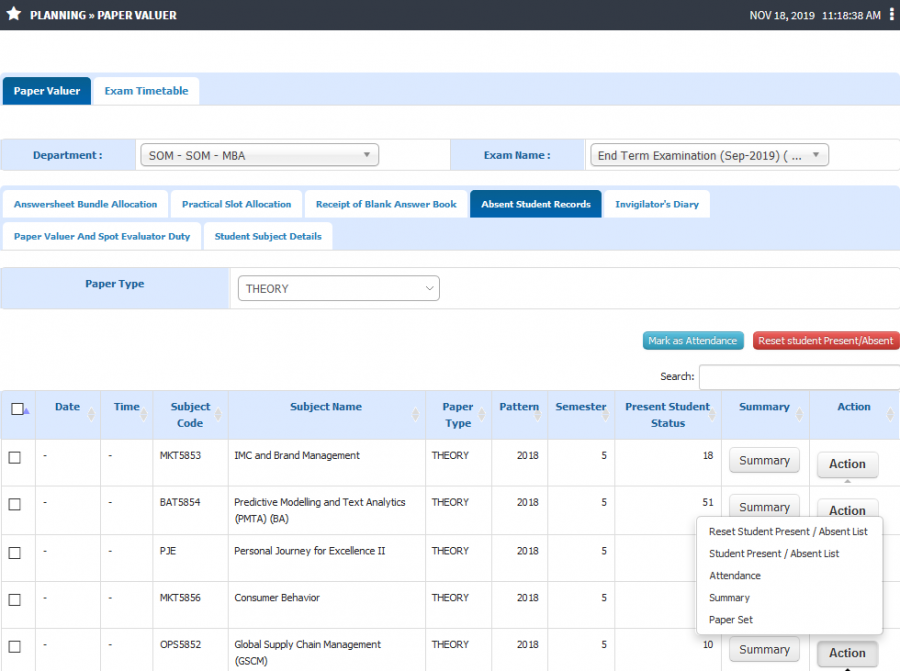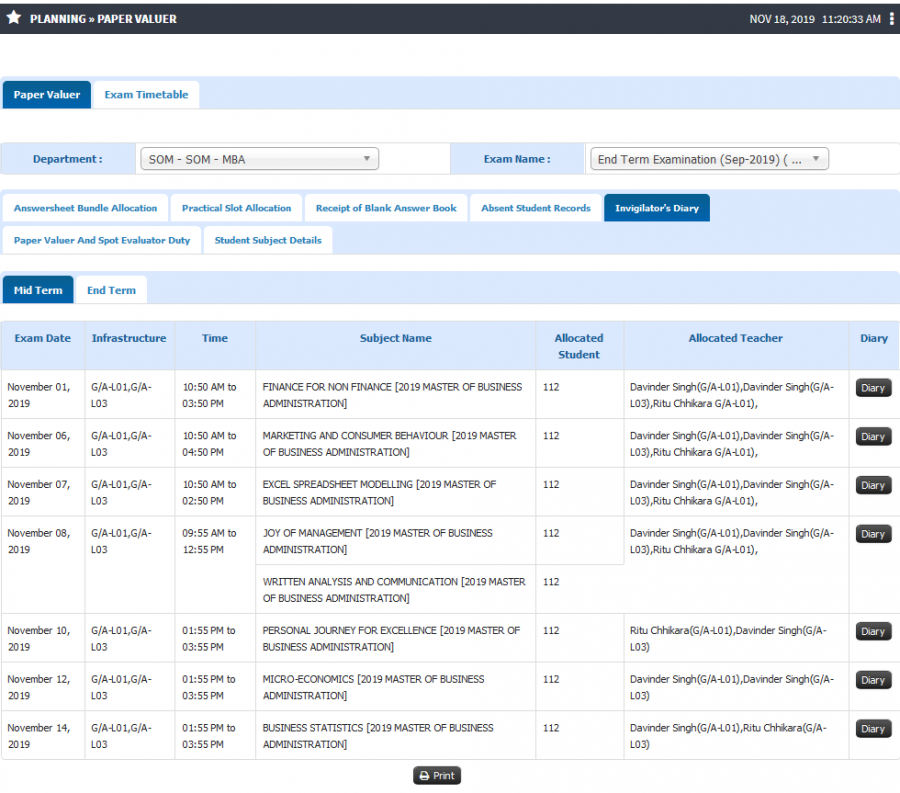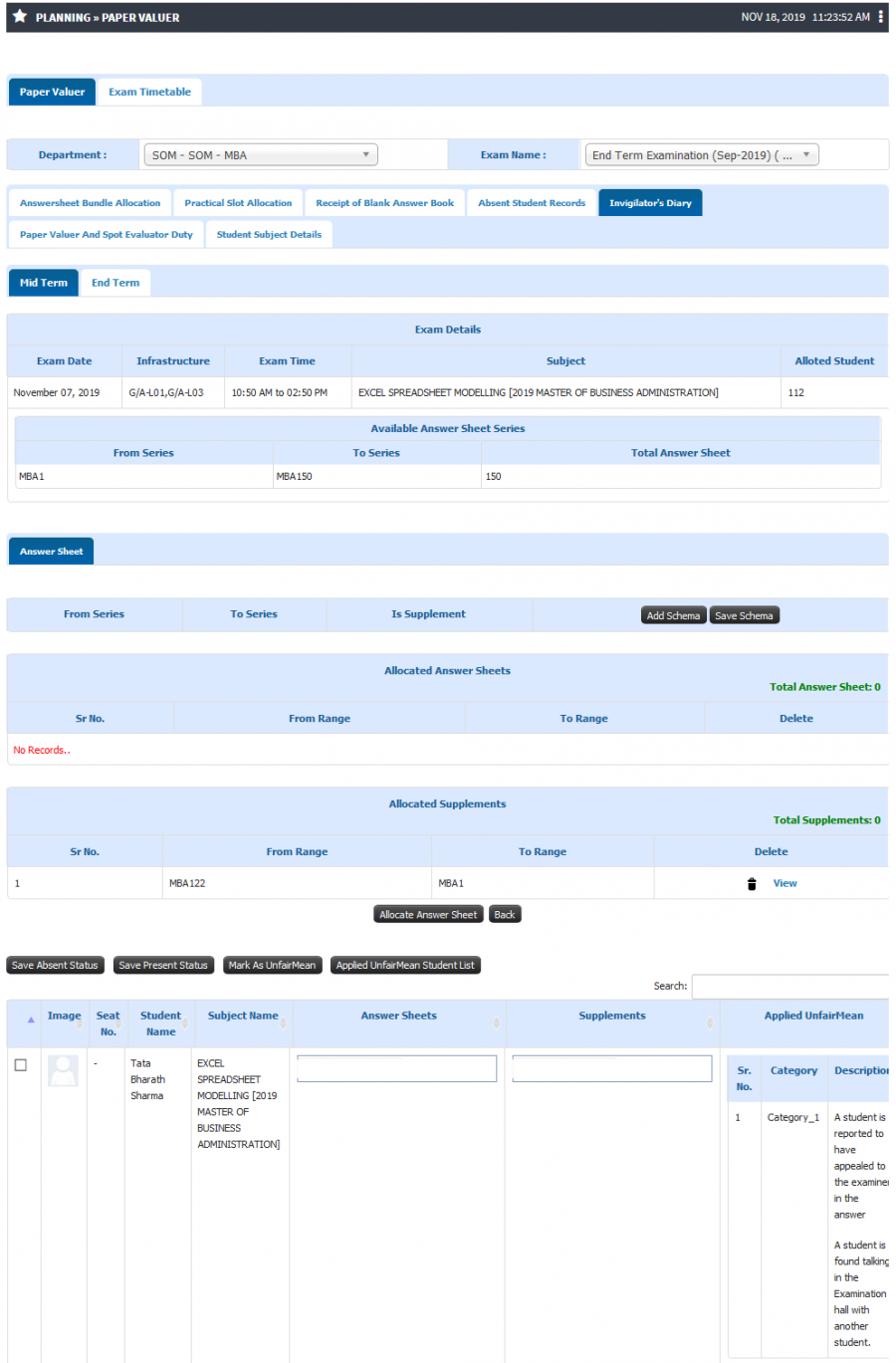 Paper Valuer And Spot Evaluator Duty