Finance Configuration for Office DOCS
From JUNO Wiki
Finance Configuration for Office DOCS
Finance admin can configure the ledger under an account in which the fees collected for office documents shall be deposited. Type of account along with group can be defined. Once a ledger is created by finance admin, it shall be visible at head admin login while creating office document type and the same can be selected or mapped with the document fee collection.
Roles
Finance Admin, Head Admin
Path
Finance Admin >> Accounting >> Accounting Configuration >> Ledger
Head Admin >> Students >> Requisitions >> Document Request to Office >> Office Docs Type
Inputs Needed
Finance Policy
Ledger Details
Policy Name
Document Type
Functionality
1) Add New Ledger
Ledger for document fees collection can be created and mapped with students miscellaneous account.
While creating ledger user has to define account type and group.
Once the ledger is created successfully the same shall be visible for selection at the time of document type configuration.

2) Account For Selection option
The list of ledgers created by finance admin shall be visible in the drop down.
Ledger defined for particular document type can be selected, under the same ledger fees for document shall be collected.
Step by step
Follow Below mentioned steps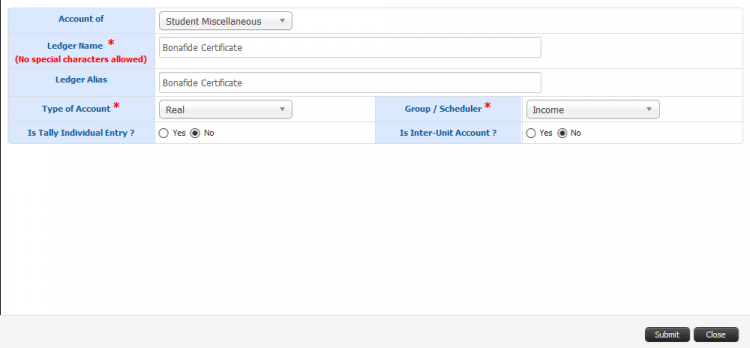 Ledger selection while document type configuration