Timetable Planning
From JUNO Wiki
Timetable Planning
Time table can be scheduled for planned as well as for running batches. Time table can happen only after faculty course allocation & student course allocation.
Planned time table is fixed pattern of time table created by program at the start of each term. On day to day basis changes can happen in planned time table which will be recorded under 'Time table adjustment'.
Planning of time table includes below aspects
Creation of schedule
Creation of slots
Creation of breaks
Allocation of lecture in scheduled slot
Roles
Academic Admin
Path
Academic Admin >> Schedule >>Time Table >> Academic Time Table
Terminology Used
Time Table Block- Duration for which time table is created. Usually time table is created for the entire semester, but sometimes can be scheduled month wise, where month wise different time slots can be configured.
Time Slot- Time slot is the duration in between start and end of each session/break. There can be first time slot of 8am to 9am and there can be lunch break slot from 1pm to 1.30pm
Session Conflict- Session conflict gives last date of ending particular course based on planned time table and number of sessions for particular course.
Inputs Needed
For block creation
Start & end date of block
For slot creation
Start & end time of slot
Break check for breaks
For scheduling lecture inside slot
Subject Name
Elective section (If any)
Infrastructure
Lecture type- Lecture, Practical, Guest Lecture etc
Faculty Abbreviation
Functionality
Creation of time block
Creation of time slot
Day wise & division wise lecture allocation
Creation of breaks/recess
Generation of time table PDF
Deletion of time slot before freezing
Step by step
Academic Time Table

Adding new block

Adding time slot under the block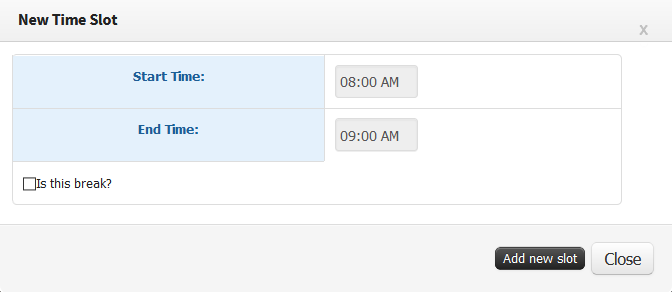 Break Slot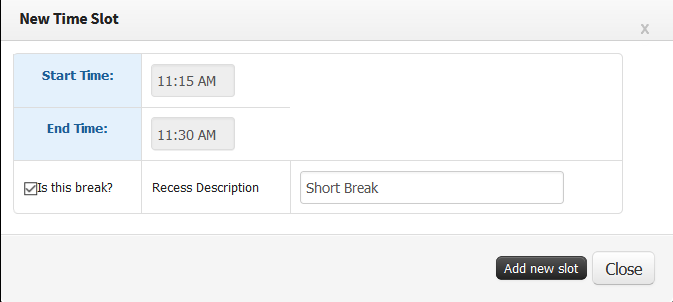 Adding session under the slot

Time table freezing