Submission of Thesis by Student
From JUNO Wiki
Submission of Thesis by Student
Thesis is a document submitted in support of candidature for an academic degree or professional qualification presenting the author's research and findings.
In many universities Master students will be evaluated on the basis of Thesis and some other courses.Ph.D. candidate will be mainly evaluated on the basis of the Ph.D thesis submitted by him/her.So the thesis should  be a carefully written and checked document,that would show
Candidate has a thorough grasp of the subject and the methodologies
Original approach taken and new observations made
Appropriate interpretations of the findings
An ability to communicate research findings in a professional and contemporary manner.
The allocation of the Guide who will Guide registered candidate in his Research work can be decided by the Department in a formal manner or on the basis of Merit list,student choice and priority (If applicable).
Registered candidate can submit his/her Synopsis & Thesis under certain rules which will be evaluated by Competent authorities (Internal & External Examiner).
Roles
Student
Path
Student » Academic Functions » Home Paper/Seminar/Project
Terminologies Used
Guide : Guide shall mean a member of the academic staff of the University/Constituent Unit, who guide/supervise the research work of the candidate.
HOD : Head of the Department
Dean : The head of a university faculty or department.
Referee : A referee is someone who has been given the responsibility of evaluating the suitability of thesis and the candidate for the award of PG and Ph.d.
Pre-requisites
Student should be in a running batch (semester).
Student should be mapped with faculty and Research Project.
Thesis Component configuration should be done including authorities and submission date from academic admin.
Candidate synopsis should be submitted and approved.
Payment configuration should be done from academic admin if required.
Inputs Needed
Functionality
Able to pay Thesis fee online if configured.
Candidate will be able to submit his Thesis online.
Candidate will be able check approval & progress of evaluation of Thesis of various Competent authorities configured.
Candidate will be able to resubmit Thesis online if rejected or in case of any changes to be added suggested by Guide.
Primary Functionality :
CASE 1 :- Submission of Thesis
Candidate can prepare his/her Thesis file in PDF format and upload it.Once it is submitted,respective authority will get the communication to approve and evaluate the candidate Thesis.
Step by step
Follow Below mentioned steps

Path : Academic Functions » Home Paper/Seminar/Project
1) Research Project Subject

2) Thesis Component

3) Guidelines to submit the Thesis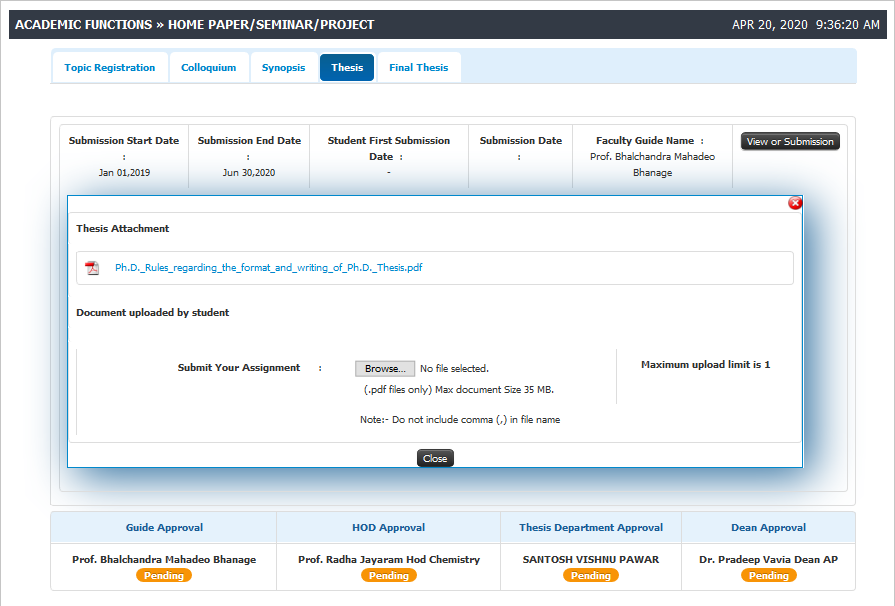 4) Submission Of Thesis