Creating Evaluation Parameter
From JUNO Wiki
Creating Evaluation Parameter
Evaluation Universe
Evaluation Universe is a master, used to define evaluation parameters set, from which a subset can be used for different courses(subjects) under a program for student internal assessment.
Roles
Academic Admin
Path
Academic Admin » Organization » Syllabus Configuration » Evaluation Universe
Terminologies Used
Evaluation Parameter: Evaluation parameter is used to define assessment criteria for students in academics.User can create Evaluation Parameter for each component of Project like Topic Registration,Colloquium,Synopsis and Thesis.
Inputs Needed
Evaluation Parameter Name
Assessment Type (Continuous,Mid Term or End Term)
Minimum Frequency
Maximum Frequency
Weightage (Min. and Max.)
Evaluation Parameter of Research Project
Functionality
Add Research Project Evaluation Parameters
Edit or Modify Evaluation Parameters
Delete Evaluation Parameters
Enable or Disable Evaluation Parameters
Configuration and it's Effects
Primary Functionality :
CASE 1 :- Add Evaluation Parameter
Evaluation parameter can be added from evaluation universe under which sub evaluation parameters can also be added.
Maximum Frequency to add sub evaluation parameter has to be defined.
Able to choose an option to add Parameter for Project.
If an evaluation universe has no parameters defined faculty shall have no option to add sub parameters for evaluation.
CASE 2 :- Edit or Delete Evaluation Parameter
User can edit evaluation parameter details except the parameter name.
Delete evaluation parameter would delete the parameter from evaluation universe master.
CASE 3 :- Enable or Disable Evaluation Parameter
If an evaluation parameter is not going to be used for current academic year user may disable the same.
Step by step:
Follow Below mentioned steps

1) User can add new Evaluation parameter using 'Add New' button and configure it.You can define the weightage to component as per course specification and evaluation process.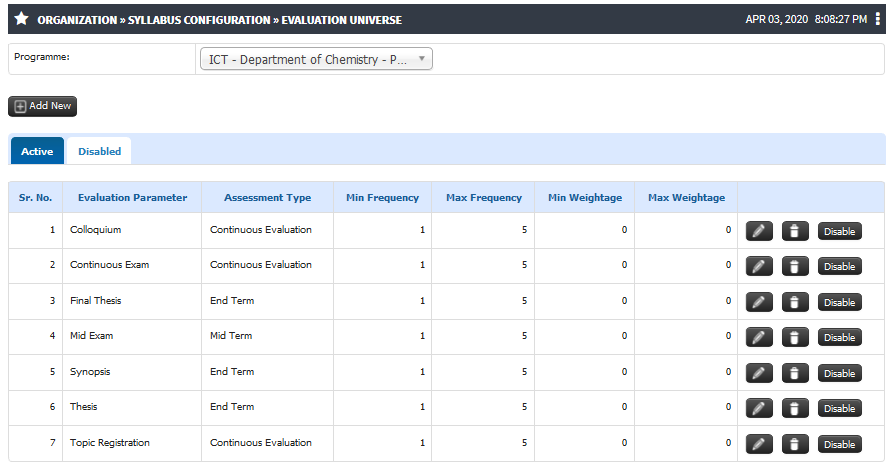 2) You can use these Components in Thesis Configuration as per the stages required for Evaluation of Research Project or Thesis.