Topic Submission by Guide
From JUNO Wiki
Topic Submission by Guide
The student admitted to a Ph.D. programme shall submit a research proposal in the prescribed format,through his guide and the respective HoD.The research proposal should consist of the topic of research and a broad outline of the work to be carried out.
As a Guide,he/she can Suggest or offer Topic to the candidate for Research.Once Topic is submitted by Guide, it will be sent to the Dean/Research committee to scrutinize the proposal with respect to the Topic of research and the scope of research and approve it.
After approval of Dean/Research committee, candidate will be able to choose a topic from the approved research topic.
Roles
Faculty
Path
Faculty :
Faculty » Academics » Research Topic
Research Committee/Dean
Pre-requisites
Project Configuration should be done
No. of topic should be mentioned in Project Configuration
No.of students to be allocated to Guide
Terminologies Used
Guide : Guide shall mean a member of the academic staff of the University/Constituent Unit, who guide/supervise the research work of the candidate.
Dean : Head of the Department
Inputs Needed
No. Of student want to Guide
Research Topic details
Functionality
1) Submit No.Of Student
Guide shall submit the no.of student would like to guide as per the Programme Batch.
2) View/Submit Topics by Guide
Guide shall submit Research Topic list which will be scrutinized and approved by the Research committee/Dean.
Approved topic will be offered to candidate to choose.
3) Edit/Delete
Guide shall edit/delete Topic details before submitting it to Research Committee/Dean.
4) Approve/Reject Research Topic
Once research topics are submitted by guide,it will be scrutinized and approved by Research committee/Dean.
Approved topic will be given to student to choose as their Research Topic.
Step by step
Follow Below mentioned steps

1) Submit No.Of Student like to Guide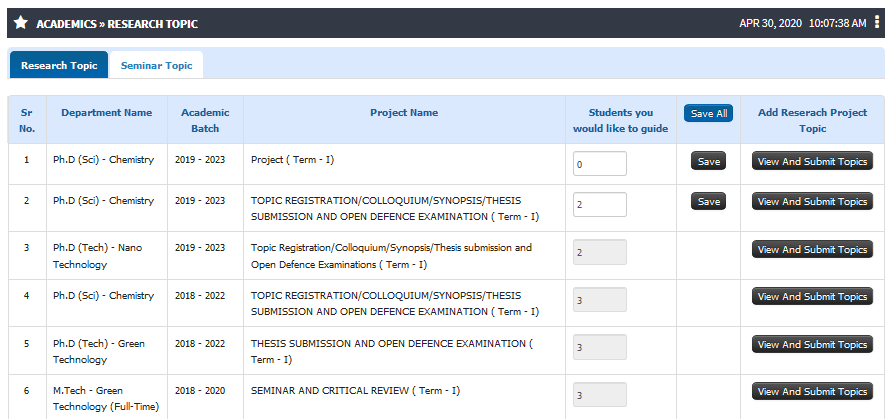 2) View/Submit Topics by Guide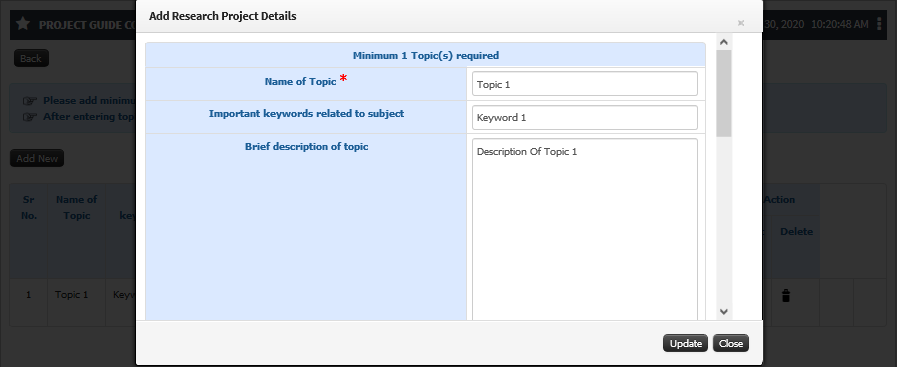 3) Edit/Delete Research Topic

4) Approve/Reject Research Topic by Research Committee/Dean