Thesis Approval by Referee Login
From JUNO Wiki
Thesis Approval by Referee
Thesis is a document submitted in support of candidature for an academic degree or professional qualification presenting the author's research and findings. Dean can invite random referee from the pool of Referee recommended by Guide or generated by thesis department authority.Once referee is invited, he/she will be able to evaluate and approve Synopsis & Thesis submitted by the candidate.
Roles
Referee
Path
Referee » Academics » Thesis Evaluation
Pre-requisites
Referee must be allocated and invited with priority & no.of days by Dean to candidate
Candidate Synopsis request should be approved by referee.
Terminologies Used
Guide : Guide shall mean a member of the academic staff of the University/Constituent Unit, who guide/supervise the research work of the candidate.
HOD : Head of the Department
Dean : The head of a university faculty or department.
Referee : A referee is someone who has been given the responsibility of evaluating the suitability of thesis and the candidate for the award of PG and Ph.d.
Functionality
1) Approve
Referee can approve the request by accepting declaration if he/she is agree with rules defined for evaluation of Synopsis & Thesis for the referee.
2) Reject
Referee can reject the request if he/she is not eligible as per the Declaration of evaluation of Synopsis and thesis or not available.If 1st and/or 2nd referee reject the Evaluation request then it will be send to referee with next higher priority given by Dean.
3) Submit/View Report
Referee will be able to evaluate candidate thesis and submit his/her report with recommendation.
Once report is submitted by referee concerned authorities will be able to view and print the same from their login to keep the record.
Step by step
Follow Below mentioned steps

1) Thesis Approval by Referee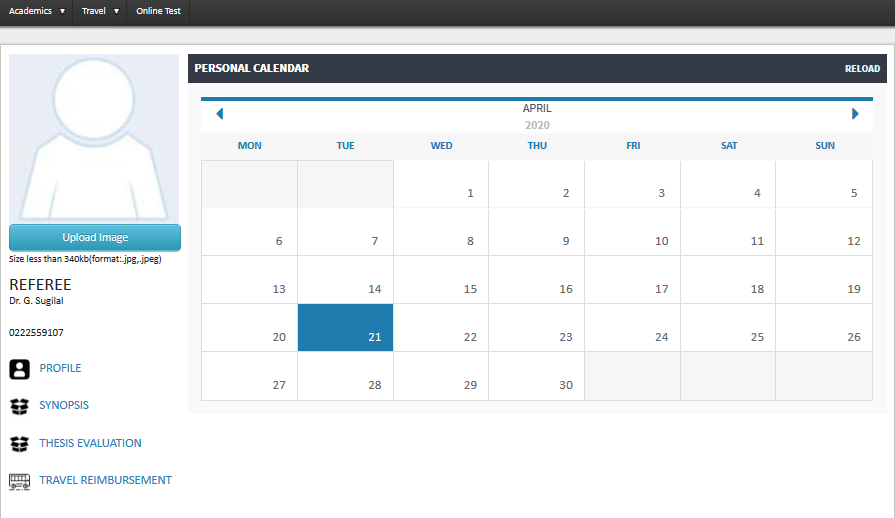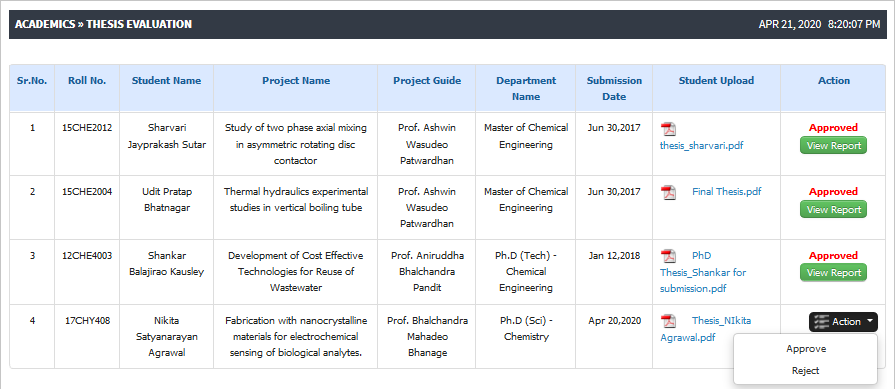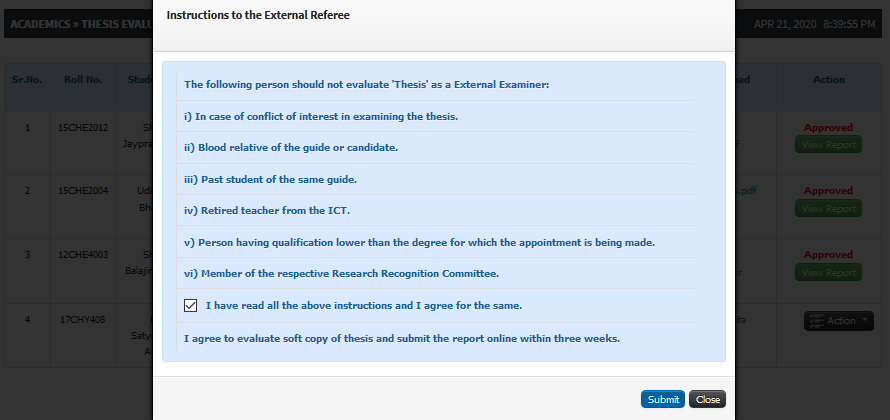 2) Reject Thesis Evaluation Request



3) Submit/View Report