Course Outline
From JUNO Wiki
Course Outline
Course outline is a brief summary of the topics covered in a particular course. Course outline includes course description, number, title, topics and course requirements. It is a document that outlines the structure of particular course. These Course Outline details can be filled by either the Academic admin or faculty from their respective logins.
Roles
Path
Academic Admin : Organization » Syllabus Configuration » Course Outline
Faculty Login : Academics » Course Outline
Inputs Needed
Course Description.
Learning Objectives.
Pedagogy.
Course Requirements.
Basic Reference Materials, etc.
Functionality
Describes the Overview of a course.
Course Outline reports can be generated.
Course Outline can be filled using excel upload functionality.
The defined Course Outline can be Replicated to other Program and batches.
Course Outline can be set visible at student login.
Terminology Used
Learning objectives : These are statements that define the expected goal of a curriculum, course, lesson or activity in terms of demonstrable skills or knowledge that will be acquired by a student as a result of instruction.
Pedagogy : The method and practice of teaching.
Step by Step
1. Insertion of Course outline details at Academic Admin login.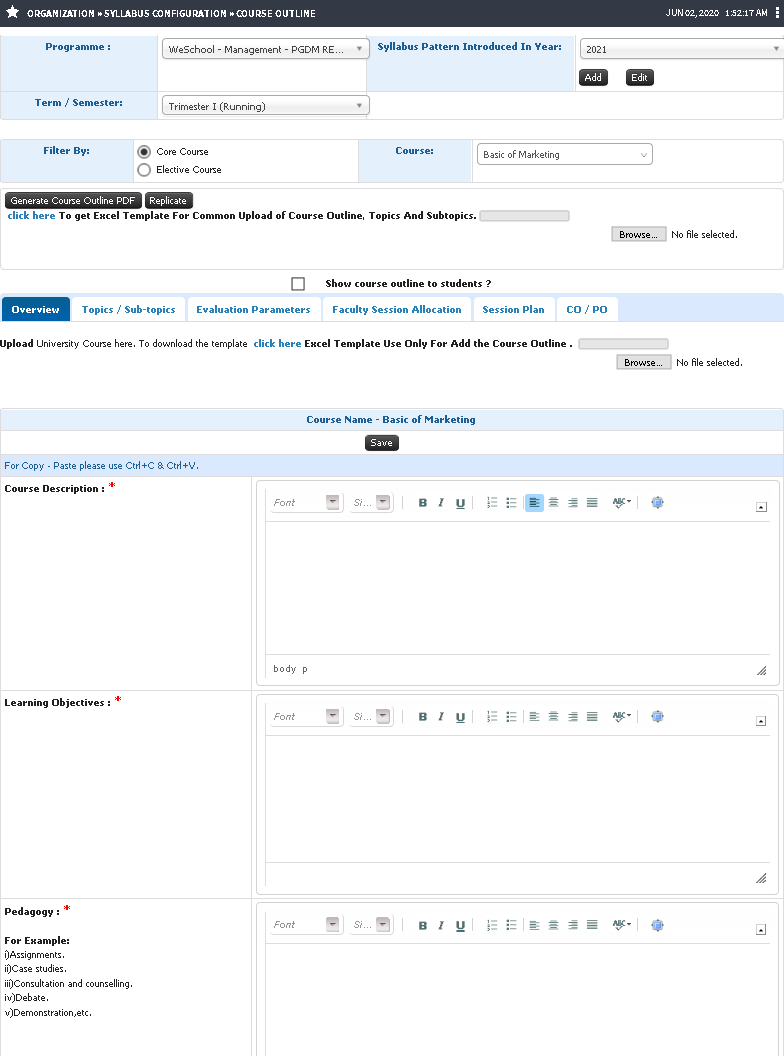 2. Insertion of Course outline details at Faculty login.