Evaluation Universe
From JUNO Wiki
Evaluation Universe
Evaluation Universe is a master, used to define evaluation parameters set, from which a subset can be used for different courses(subjects) under a program for student internal assessment.
Roles
Academic Admin
Path
Academic Admin >> Organization >> Syllabus Configuration >> Evaluation Universe
Terminologies Used
Program: Program is usually similar to qualification but not always. In Engineering colleges, all first year students are allocated to the program "Applied Science" which is a mixed group for teaching basics of Engineering to all specialization. In the second year Applied Science students are distributed to different programs(non-functional departments) like BE - Comp, BE - Civil, BE Mech.
Evaluation Parameter: Evaluation parameter is used to define assessment criteria for students in academics.For program BE - Comp faculty may have evaluation parameter as Attendance, Assignments, Orals, etc on which students would be rewarded with marks.
Inputs Needed
Programme Name
Evaluation Parameter
Assessment Type
Minimum Frequency
Maximum Frequency
Minimum Weightage
Maximum Weightage
Functionality
Add Evaluation Parameters
Edit or Modify Evaluation Parameters
Delete Evaluation Parameters
Enable or Disable Evaluation Parameters
Set Priority to Evaluation Parameters
Configuration and it's Effects
Primary Functionality :
CASE 1 :- Add Evaluation Parameter
Evaluation parameter can be added from evaluation universe under which sub evaluation parameters can also be added.
Maximum Frequency to add sub evaluation parameter has to be defined.
Option to add sub evaluation parameter is available only when the faculty subject allocation is completed.
If an evaluation universe has no parameters defined faculty shall have no option to add sub parameters for evaluation.
CASE 2 :- Edit or Delete Evaluation Parameter
User can edit evaluation parameter details except the parameter name.
Delete evaluation parameter would delete the parameter from evaluation universe master.
CASE 3 :- Enable or Disable Evaluation Parameter
If an evaluation parameter is not going to be used for current academic year user may disable the same.
CASE 4 :- Set Priority for Evaluation Parameter
Priority option is used to specify the sequence to display the evaluation parameters on result.
Step by step:
Follow Below mentioned steps

Enable/Active evaluation parameter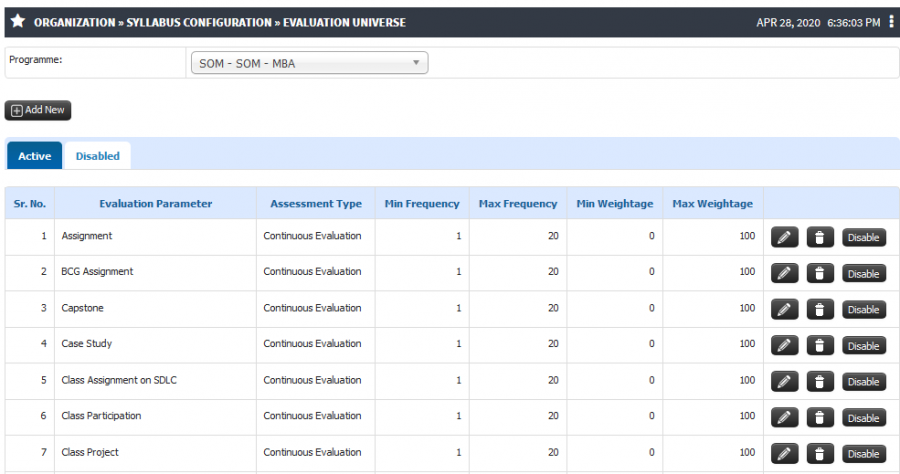 Add new evaluation parameter

Disable evaluation parameter