Employee Grievance
From JUNO Wiki
Employee Grievance
Employee can register grievance from their respective logins. Status for raised grievance can be mapped and complaint history for same is maintained. Comments and details specified on the raised issue can be viewed by employee.
Roles
Staff Login, Faculty Login
Path
Faculty >> Requisitions >> Grievance >> Employee Grievance
OR
Staff >> Feedback Grievance >> Raise Observations
Inputs Needed
Functionality
1) Raise Grievance
Faculty from their login can raise grievance.
Complaint priority can be given between Low to High.
From an specific admin login(Library Head, Academic Head, etc.) complaint can be forwarded to respective member or coordinator.
Complaint proof can be uploaded images, document, etc.
2) Complaint History
Complaint history can be traced.
Past complaint with their status can be maintained.
Comments by authority on raised issue can be viewed by employee.
Step by step
Follow Below mentioned steps

Raise Grievance from Faculty login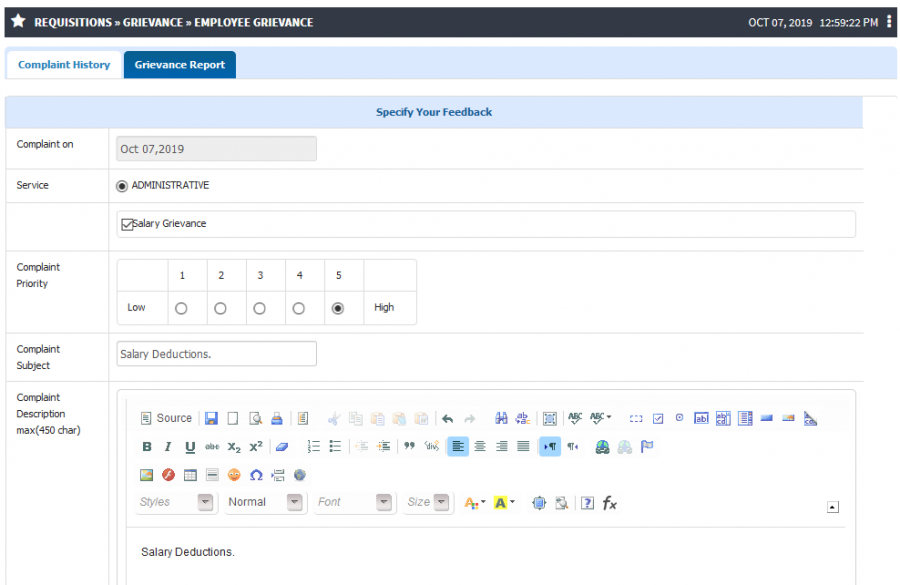 Raise Grievance from Staff login