Request Sanctioning
From JUNO Wiki
Request Sanctioning
Student may raise request for document like Bonafide certificate, Transfer certificate, etc. Requisition for document is sent to authorities for sanctioning. After document sanctioning process document shall be handed over to students.
Roles
Head Admin Login, Staff (Sanctioning Authority)Login
Path
Head Admin Login >> Job Tray >> Document Request
OR
Staff Login >> Requisition >> Student Office Docs >> Sanctioning
Inputs Needed
Functionality
1) Document Requisition
Document approval authority shall receive an requisition in their job tray for sanctioning.
Authority can click on request an view history, view document template and approve or reject the request.

2) Document Approve/Reject
Based on details available related to student authority may decide on to sanctioning or rejection of the document request.
The documents once approved or rejected shall move to another tab with changed status.
Once approved the document shall be available to hand over.
Step by step
Follow Below mentioned steps

Documents in authorities job tray for approval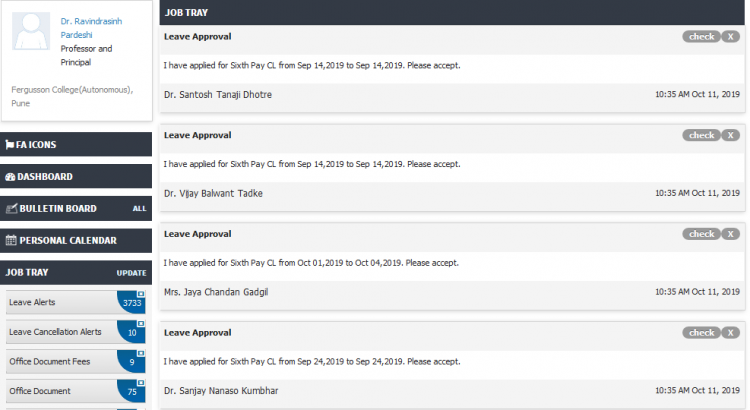 List of pending document requisition
Approving requisition for documents

List of approved documents