Register Book Bank Member
From JUNO Wiki
Register Book Bank Member
User can register a book bank member based on merit list or category of member. Details like Maximum books allowed, Maximum days allowed and Maximum re-issue days allowed can be defined for each member. The pre-requisite for registering Book bank member are:
In Library Configurations, Configure Book bank Account heads.
Mention fees for Book bank membership(if any).
Roles
Library Admin
Path
Book Bank » Register Book Bank Member
Inputs Needed
Maximum books allowed to be issued.
Maximum days allowed for media.
Maximum Re-issue days allowed for media.
Expiry date of book bank membership.
Functionality
Register a library member as Book bank member.
Based on the member details, re-issue date and fine is calculated.
Defines the expiry of Book bank membership.
Step by Step
1) Under pending students tab, fill member details and click on "Save Book bank member".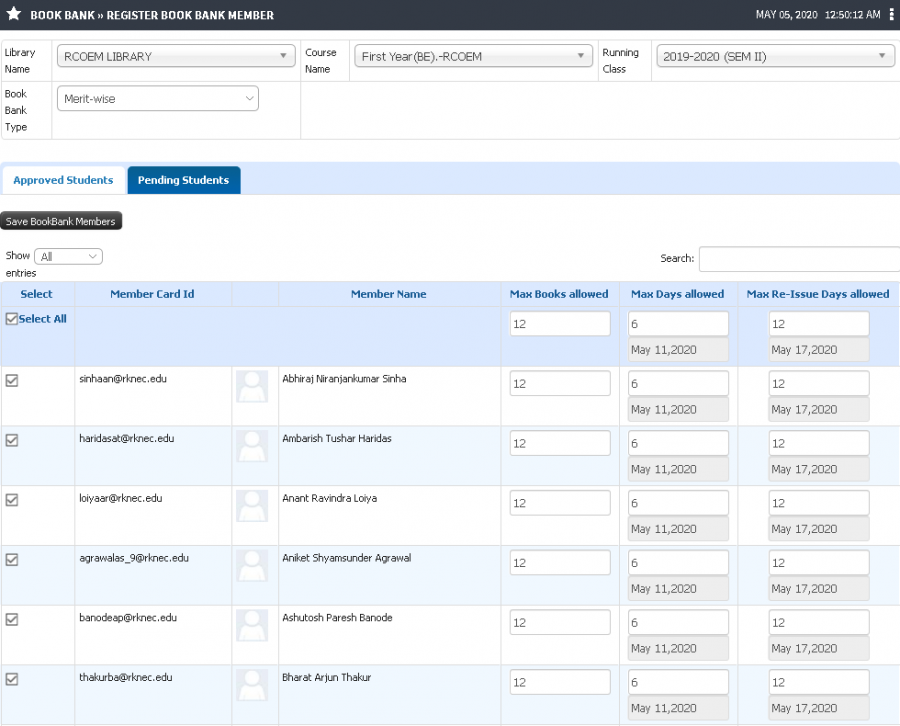 2) Under Approved Students tab, mention expiry date of book bank membership and click on "Change free Book bank members".