Ledgers and Bank Configuration
From JUNO Wiki
Ledgers and Bank Configuration
Ledger is an account created to record all the Financial transactions for business assets,liabilities,revenue and owners equity.User can create and record ledger information related to various vendors,staff,students,fees or things separately in Finance module which enables business to look at the accumulated figure of each account.User can also create separate Ledger accounts for various assets and liabilities which helps account section to see the financial position.Finance admin to configure the Bank and Account details for the various purpose like Receive Payment,Make Payment and other accounting purpose.
Roles
Finance Admin
Path
Finance Admin » Accounting » Accounting Configuration » Ledger
Terminology
Account of- Type of commodity (like Customer , vendor, bank, student,fee, etc)
Resource name :- You can map ledger to any of the master.
Ledger Name:- General Ledger name
Ledger Alias:- Alias name for Display on receipt
Type of Account – Personal, Nominal, Real
Group:- Most important attribute, this is called as Account group, it's a parent attribute for ledger.
Is Tally Individual Entry ?- Mapping with tally
Statutory / Tax Applicable ?- define if any Tax related ledger like TDS.
Is Cost Center ?- Condition for cost center, its kind of specific location / department.
Inputs Needed
Account of
Resource name
Ledger Name
Ledger Alias
Type of Account
Group
Is Tally Individual Entry
Statutory / Tax Applicable
Is Cost Center
Functionality
Able to Add/Edit/Block Ledger
Able to Import Ledger Using Excel
Able Add multiple Ledger of same type
Able to Export Ledger details in Excel
Step by Step
Ledger

Add Vendor Ledger
Add Multiple New Account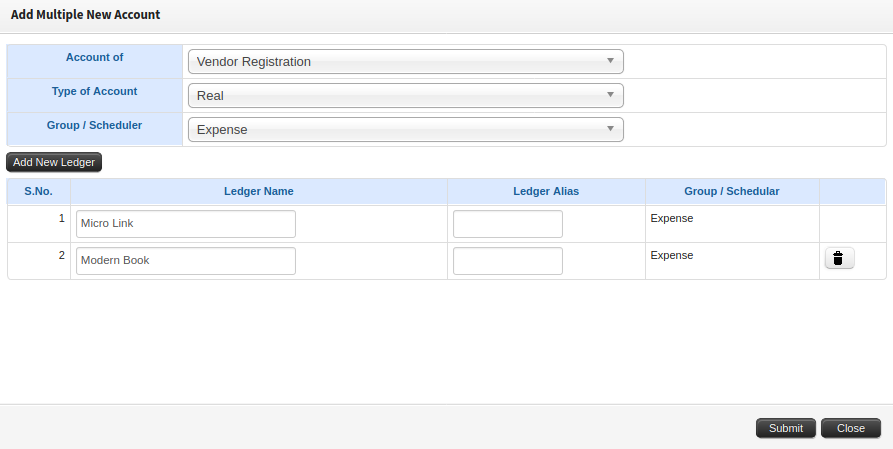 Block Vendor Ledger